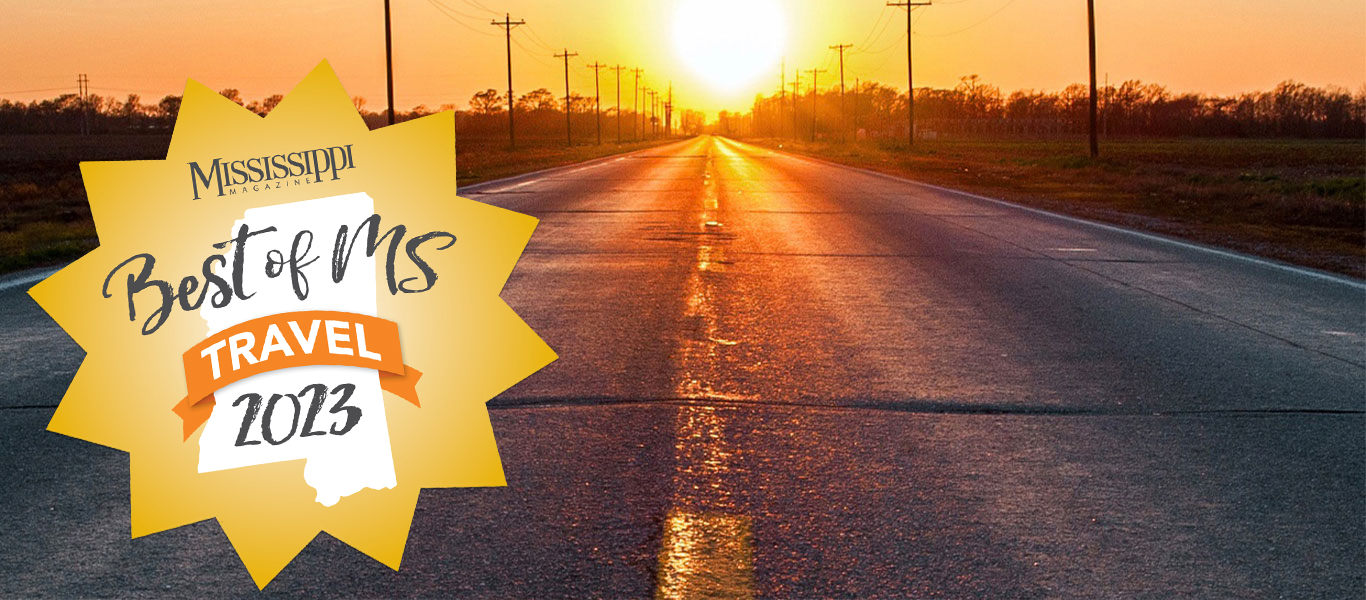 Mississippi Magazine's annual Best of Mississippi Travel survey is an opportunity for readers to support their favorite Mississippi destinations and attractions. Winners in over 35 categories will be recognized as either "Best of Mississippi" or "M-List" in our popular September/October issue, our website, and on social media.
BEST OF MISSISSIPPI TRAVEL CATEGORIES
ACCOMMODATIONS
Bed and Breakfast, Hotel or Resort, RV Park/Campground, Historic Hotel, Family-Friendly Resort or Hotel, Pet-Friendly Resort or Hotel, Spa Hotel, Boutique Hotel
ATTRACTIONS
Haunted Site, Fall Fesitval, Spring Festival, Free Adventure, Holiday Attraction, Historic Destination, Animal/Wildlife Attraction, Art Museum, History Museum, Casino
OUTDOOR ADVENTURE
State Park, City Park/Playground, Boating and Water Sports, Fishing Hole, Hiking Trails, Canoeing/Kayaking, Biking Trails, Sports Shooting Facility, ATV/Motorcross Park
TRAVEL RESOURCES
Adventure Outfitter, Camper/RV Sales and Rentals, Boating Supplies, ATV Motorcycle Sales, Bikes Supplies and Services, Hunting Supplies and Services, Gas Station Grub and Road Snacks
GETAWAYS
Girlfriends' Getaway, Family Getaway, Romantic Getaway, Downtown Shopping, Day Trip
FREQUENTLY ASKED QUESTIONS
Is my business eligible to be included in the Best of Mississippi Travel voting?
If your establishment is Mississippi-based and is not part of a national chain, it is eligible.
However, franchises or chain-businesses are eligible if that chain originated in Mississippi.
How and when can people nominate and vote for Best of Mississippi Travel?
To nominate, they should visit mismag.com from March 15 to April 15.
To vote, they should visit mismag.com from May 15 to June 15.
There will be a permanent link for both
How can I encourage customers to vote for my business?
Use your imagination to spread the word. Share the link to the electronic ballot on social media, display signs in your business, and include our Best of Mississippi Travel authorized graphics in advertising.
Can I or my employees fill out ballots on our customers' behalf by using their email addresses?
No. Only an individual who owns an email account may complete and submit a ballot. If more than 10 ballots are submitted from the same computer (IP address), all ballots from that computer will be voided.
When will the survey results be revealed?
Best of Mississippi Travel winners and M-List will be announced in the September/October issue of Mississippi Magazine as well as on social media.
Click below to get access to the Best of Mississippi Travel authorized graphics.