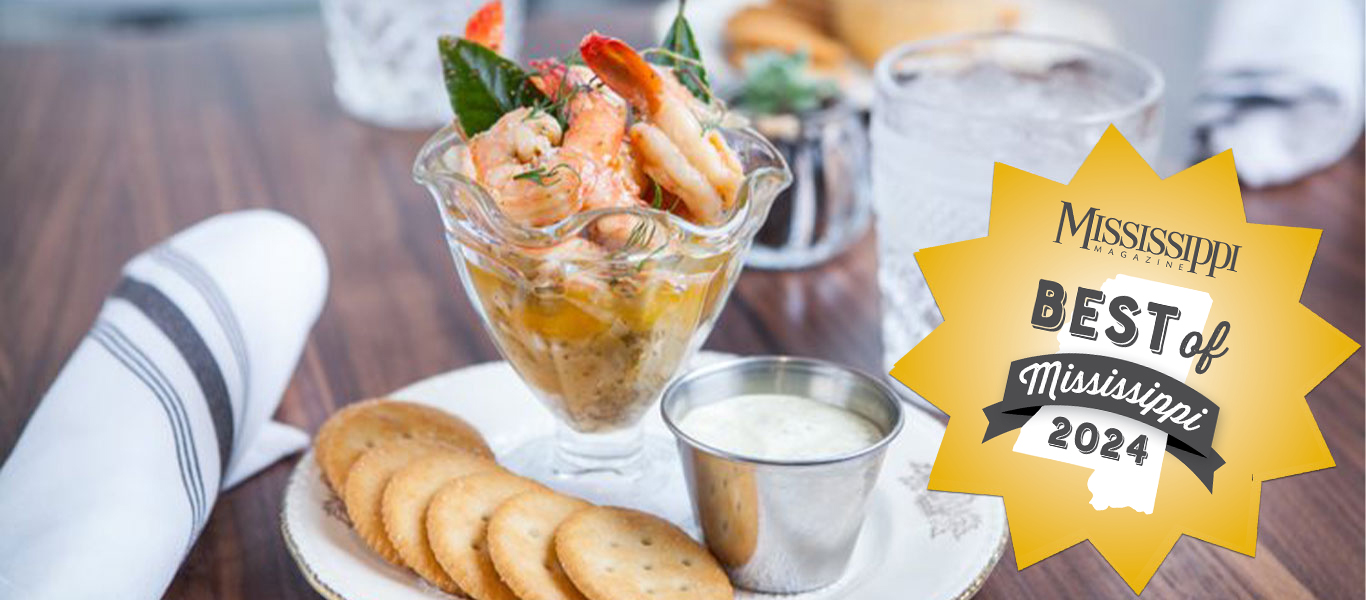 Mississippi Magazine's annual Best of Mississippi survey is an opportunity for readers to support their favorite places to eat, shop, and explore in the Magnolia State. Winners in over 60 categories will be recognized as either "Best of Mississippi" or "M-List" in our popular May/June issue, our website, and on social media.
BEST OF MISSISSIPPI CATEGORIES
DINING
Breakfast/Brunch, 
Coffee House, 
Appetizer, 
Cornbread, 
Sweet Tea, 
Fried Chicken, 
Catfish, 
Pizza, 
Deli, 
French Fries, 
Hamburger, 
Barbecue, 
Tamales, 
Sushi, 
Blue Plate Special, 
Italian Food, 
Ethnic Food, 
Seafood, 
Steak, 
Dessert, 
Sweet Shop/Bakery, 
Food Truck, 
Kid-Friendly Restaurant, 
Healthy Restaurant, 
Best Place for a Ladies' Lunch, 
Outdoor Dining, 
Fine Dining
FASHION
Accessories, 
Shoes, 
Children's Shop, 
Children's Consignment Shop, 
Tween/Teen Apparel, 
Men's Casual Clothing, 
Men's High-End Apparel, 
Trendy Fashions, 
Women's High-End Apparel, 
Clothing Consignment Shop
SPECIALTY RETAIL
Fine Jewelry, 
Antique Jewelry, 
Bookstore, 
Fine Paper Goods, 
Gift Shop
HOME AND GARDENS
Garden Art, 
Yard and Garden Shop, 
Floral Shop/Designer, 
Farmers Market, 
Fine Antiques, 
Flea Market, 
Furniture Store, 
Home Décor and Accessories, 
Home Décor Resale/Consignment, 
Art Gallery, 
Kitchen Shop, 
Pet Goods and Services
HEALTH AND BEAUTY
Fitness Center, 
Day Spa, 
Hair Salon, 
Beauty Enhancements
ACTIVITES
Performing Arts Venue,  
Live Music Venue, 
Park, 
Attraction for Kids, 
Museum, 
Golf Course
FREQUENTLY ASKED QUESTIONS
Is my business eligible to be included in the Best of Mississippi voting?
If your establishment is Mississippi-based and is not part of a national chain, it is eligible.
However, franchises or chain-businesses are eligible if that chain originated in Mississippi.
How and when can people nominate and vote for Best of Mississippi?
To nominate, they should visit mismag.com from November 15 to December 15.
To vote, they should visit mismag.com from January 15 to February 15.
There will be a permanent link for both
How can I encourage customers to vote for my business?
Share the link to the electronic ballot on social media, display signs in your business, and include our Best of Mississippi authorized graphics in advertising. Use your imagination to spread the word.
Can I or my employees fill out ballots on our customers' behalf by using their email addresses?
No. Only an individual who owns an email account may complete and submit a ballot. If more than 10 ballots are submitted from the same computer (IP address), all ballots from that computer will be voided.
When will the survey results be revealed?
Best of Mississippi winners and M-List will be announced in the May/June issue of Mississippi Magazine as well as on social media.
Click below to get access to the Best of Mississippi authorized graphics.