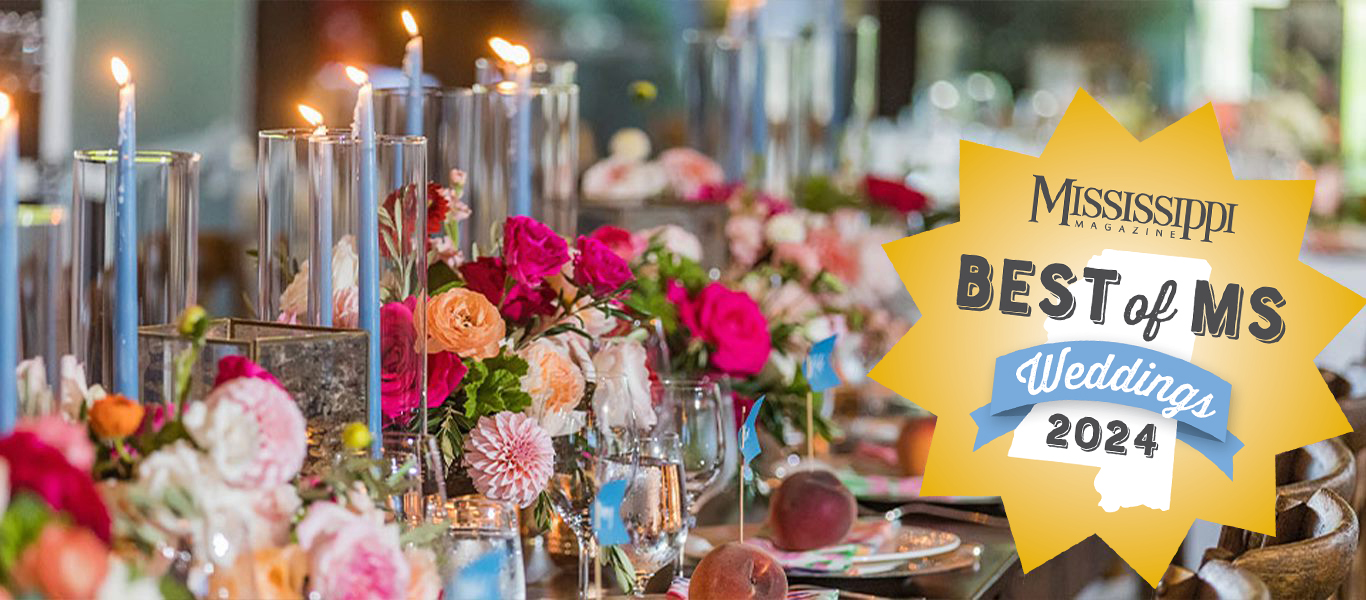 Mississippi Magazine's
Best of Weddings survey is an opportunity for readers to support their favorite wedding
businesses and professionals in the Magnolia State. Winners in over 40 categories will be featured in our popular
January/February Wedding Register issue, our website, and on social media.
BEST OF MISSISSIPPI WEDDINGS CATEGORIES
ATTIRE
Accessories, Alterations, Engagement and Wedding Rings, Bridal Jewelry, Wedding Gowns, Bridesmaids' Attire, Flower Girl Attire, Groom's Attire, Groomsmen/Ushers' Attire, Mother's and Grandmother's Attire
VENUES
Showers and Parties, Rehearsal Dinner, Destination Wedding (In Mississippi), Formal Venue, Historic Venue, Outdoor Venue, Rustic Venue
DÉCOR
Lighting, Event Rental, Flowers/Wedding Florals
GIFTS
Bridesmaids' Gifts, Groomsmen's Gifts, Hostess Gifts, Bridal Registry
BEAUTY
Cosmetic and Bridal Makeup, Bridal Hairstyling, Nail Salon, Skin Care, Bridal Party Spa Care, and
Best Surgical Enhancements Physician/Clinic
PRINTED GOODS
Wedding and Party Invitations, Monogramming, Wedding Programs, Wedding Stationery
WEDDING PROFESSIONALS
Event Planning, Entertainment/Bands/DJ's, Photographers, Videographers, Reception Artist, Transportation, Honeymoon Travel Planner
CATERING
Cakes and Sweet Treats, Caterer, and Cake Designer
FREQUENTLY ASKED QUESTIONS
Is my business eligible to be included in the Best of Mississippi Weddings voting?
If your establishment is Mississippi-based and is not part of a national chain, it is eligible.
However, franchises or chain-businesses are eligible if that chain originated in Mississippi.
How and when can people nominate and vote for Best of Mississippi Weddings?
To nominate, they should visit mismag.com from July 15 to August 15.
To vote, they should visit mismag.com from September 15 to October 15.
There will be a permanent link for both.
How can I encourage customers to vote for my business?
Share the link to the electronic ballot on social media, display signs in your business, and include our Best of Mississippi Weddings authorized graphics in advertising. Use your imagination to spread the word.
Can I or my employees fill out ballots on our customers' behalf by using their email addresses?
No. Only an individual who owns an email account may complete and submit a ballot. If more than 10 ballots are submitted from the same computer (IP address), all ballots from that computer will be voided.
When will the survey results be revealed?
Best of Mississippi winners and M-List will be announced in the January/February issue of Mississippi Magazine as well as on social media.
Click below to get access to the Best of Mississippi Weddings authorized graphics.