Invite guests down the bunny trail by placing whimsical bunnies wearing pastel ribbons hopping among spring flowers as centerpieces for Easter brunch, lunch, or buffet tables.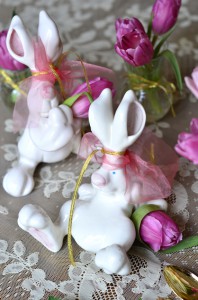 For a seated meal, add small bunnies holding place cards and menu cards for each guest. Starched white napkins folded as bunnies with floppy ears add fun to each place setting. These bunny napkins are so easy to create. The idea was adapted from "washcloth bunnies" that I made as a child in Brownies to take as small gifts to shut-ins for a service project. They only require two folds of the napkin and a ribbon around the neck to hold the head and ears in place.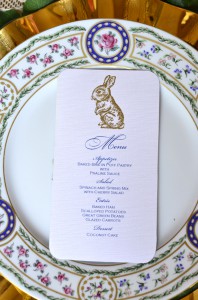 For bunny rolls, canned breadsticks work beautifully, taste great, and require little time. For an added touch, cut and shape slightly softened butter into carrots for each breadstick bunny.
Bunny molds are perfect for congealed salads or even small individual cakes.
Be sure and add some delicious food for guests to enjoy as they hop down the bunny trail on the table.
OTHER TIPS TO MAKE YOUR GUESTS FEEL SPECIAL:
Fold napkins to resemble bunnies. Place the napkin flat on table, and roll opposite corners to the center. Fold rolled napkin in half and then in half again. Tie a ribbon around the neck, and fluff ears.

Create bunny menu cards (as shown above) by printing the menu in a nice font on card stock, then stamp or emboss a bunny in gold or add a sticker on the top.

Accent nametags with small china bunnies above each plate.

Add china bunnies with ribbon bows to spring floral arrangements down the center of the table.