The only thing more fun than sending and receiving greeting cards at Christmas is turning them into special keepsake ornaments and garlands. I can still remember the joy of making all kinds of paper crafts with my children when I taught school. One year we made three-dimensional trees from green construction paper with tiny cutout candles and ornaments on each branch. They turned out so nicely that we placed them in the center of each lunchroom table for the other children to enjoy. Everyone was so pleased that we started a tradition of decorating the tables each season with handcrafted centerpieces. Th e children may not remember every step of a math equation or all the countries and rivers in Central America, but maybe the lessons and skills they learned working together and making  their school a more pleasant place and doing for others will prove to produce valuable citizens. I have always loved the fine quality paper, art, and graphics that go into Christmas cards. So many are reproductions of exquisite Old World Madonnas and familiar paintings found in museums around the world. They are fun to cut out for garlands and ribbon hangings or to use as package tags or ornaments for your tree, and they make delightful gifts. These paper delights are easy to make using a cookie cutter as a pattern, and even small hands can participate. So gather your favorite cards, scissors, ribbons, and glue, and have fun making memories and heirlooms.
To create Christmas card ornaments and garlands you will need:
Christmas cards
Cookie cutters
Black fi ne point sharpie
Scissors
Hole punch
Ribbons
Gold marking pen
Spray gold glitter
MISSISSIPPI ORNAMENTS
These ornaments are made from our very own Mississippi copper cookie cutter as a pattern. Choose an appropriate card and trace the cookie cutter outline on the card with the sharpie. Cut out the shape, removing the lines. Edge the shape with the gold marking pen, and spray lightly with spray glitter. Punch a hole into the top, and add a ribbon hanger. The "M" ornaments are made by cutting the letter shape of your choice from gold poster board. Glue a tiny holly cutout to the edge, and spray lightly with spray gold glitter. Punch a hole and add a ribbon hanger.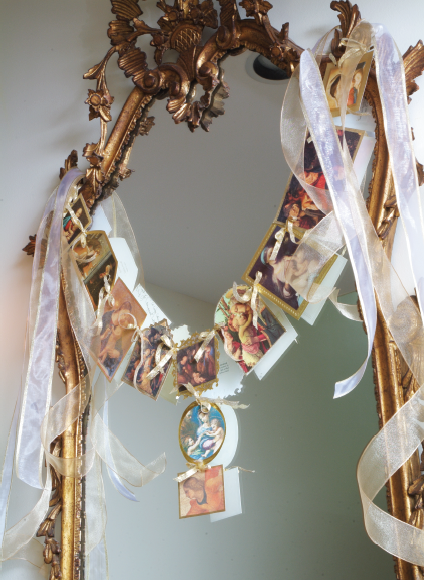 MADONNA GARLAND OR ART ON RIBBONS
Select your favorite cards with Old Masters and beautiful art (tape the description on the back), and cut them out. You may need to enhance the edges by making a frame with the gold marking pen. Spray lightly with glitter and punch a hole into the top and bottom or the sides of the card, depending on whether your garland will be vertical, like those hanging from the candle sconces, or horizontal, like the garland hanging from the mirror. You may also frame some of the beautiful pieces of art and display your own Old World gallery on an entrance table. Add a few balls and fresh greenery.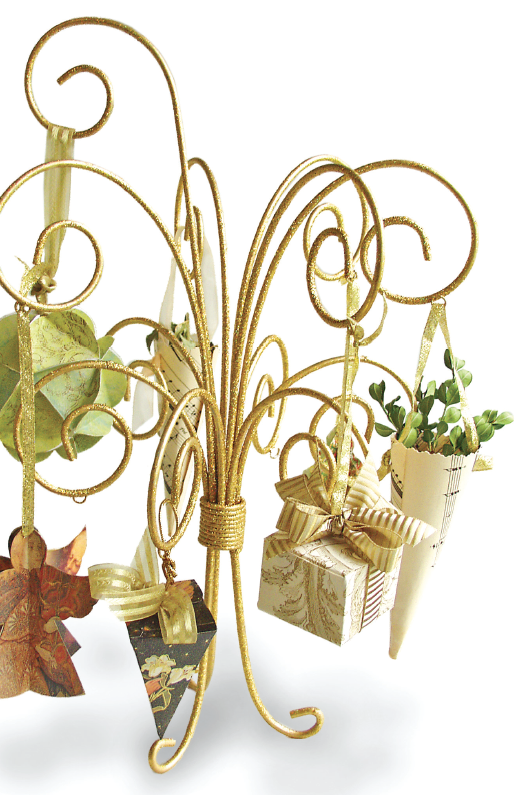 THREE-DIMENSIONAL ORNAMENTS SUCH AS ANGEL AND TREE
Use the appropriate cookie cutter and cut out five shapes from different cards. Edge each shape with a thin gold line with the gold marking pen. Fold each cutout down the center, and glue together. Spray lightly with spray glitter. Punch a hole into the top, and add a ribbon hanger.