Bravo! isn't just any Italian restaurant. It's a Jackson mainstay, it's representative of business success founded out of friendship, and when it opened all those years ago, it was an enigma. Its groundbreaking business model was cutting edge. When high-school friends Jeff Good and Dan Blumenthal put their heads together and crafted a plan for an Italian restaurant that would be located in Jackson's Highland Village, they sold shares of private stock to raise funds. "We did this by Jeff feeding people in small groups in his home," says Blumenthal. The result was an innovative approach to dining. "We built the space to provide engagement and activity," adds Blumenthal. "The open kitchen with its wood-fired oven isn't tucked in the back. The kitchen comes into the dining room and is a focal point."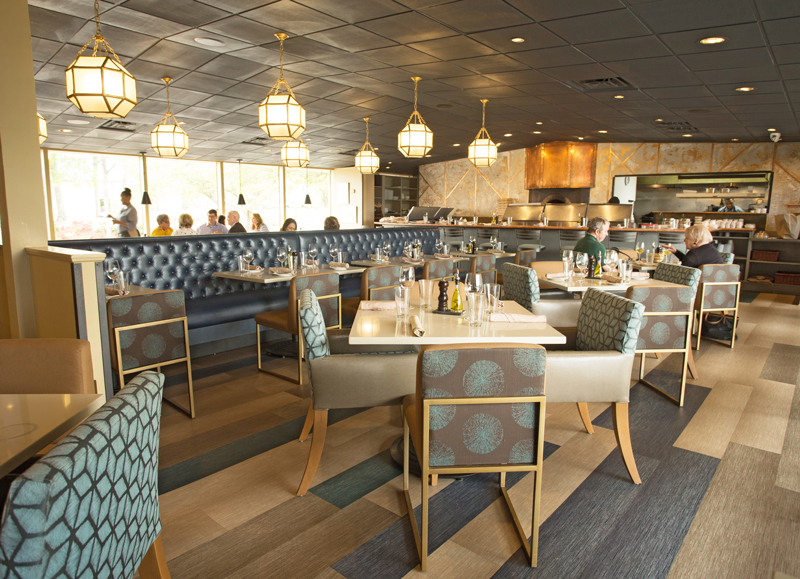 Fast-forward to present day, and this dynamic duo is celebrating 24 years with Bravo! and the welcome additions of Broad Street Baking Company, Mangia Bene Catering, and Sal and Mookie's. It's a story that's one for the books, literally. This fall, author Dawn Dugle will release The Bravo! Way—a book that delves into the thriving business practices of Good and Blumenthal.
Ever loyal to its employees, when the restaurant had to close for building repairs in 2017, the dining room was given a makeover, and the staff worked to complete these during its closure. The result is a chic new interior. "We kept 100% of our employees on the payroll through the entire process, and those very same employees all pitched in and, working together, we did the entire front house remodel ourselves! While the 'professionals' gutted and rebuilt the kitchen, our team demolished and rebuilt the front house," says Blumenthal.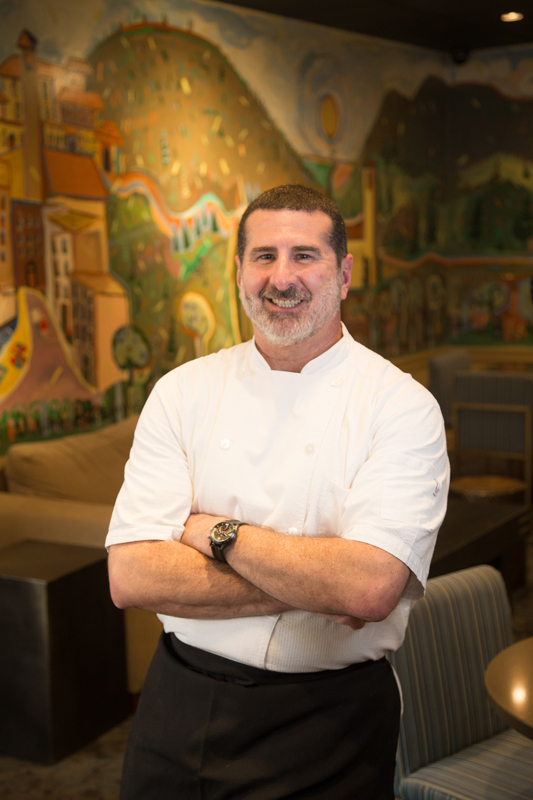 Blumenthal, a graduate of The California Culinary Institute whose experience includes a lengthy stint in the San Francisco restaurant scene, is at the helm of the kitchen, while Good keeps things in check and is a promotion guru. Blumenthal cut his teeth under Larry Mindel at Sputino and Prego before heading to Boudin Bakery and Café Kati. Bravo! is the perfect complement to his background. "The menu has strong Cal-Italian roots, reflective of my San Francisco training, with a Southern-region twists," says Blumenthal. For guests, a delicious compilation of soups, salads, antipasto, pizzas, pasta, sandwiches, and more.
Favorite starters include the Tomato-Basil Soup, Fried Polenta with rosemary and honey-infused mushrooms, or the Pecan Crusted Brie with dried cherry marmalade, arugula salad, and crostini. Then delve into the heartier options like one of the wood-fired pizzas such as the Milano (béchamel, fontina, chicken, caramelized onions, Gorgonzola, and sun-dried tomatoes) or Carne (marinara, fresh mozzarella, pepperoni, Italian sausage, prosciutto, and pancetta). Those looking for a more upscale option will enjoy selecting from entrées that include New Orleans Style Simmons Catfish & Grits, filets or ribeyes and Duck Breast (served with fig-marsala reduction, potato and caramelized onion hash, and seasonal veggies). The pasta options here are incredible, and substitutions for gluten-free or wheat pasta are available. They have always been at the forefront of special dietary options. "We make everything to order, from scratch, so special dietary needs or preferences are easy. We were one of the first restaurants to create a comprehensive gluten-sensitive menu, and it remains one of our most popular requests." The wood-fired lasagna or risotto of the day are always great choices, but branch out and try the Angel Hair with Lump Crabmeat, Campanelle with Tomatoes, or Tri-colored Cheese Tortellini. And if stopping in for lunch, there are fantastic sandwich options, all served on house-made bread. No matter the decision, room for dessert is a must. Peanut Butter-Chocolate Pie, a Cappuccino Brownie, or traditional Tiramisu and more won't disappoint.
When it comes to salads, the options at Bravo! are pure perfection. Everything from a Caesar to simple Field Greens (musclin lettuces, Kalamata olives, grape tomato, and house-made croutons served with Citrus and Balsamic vinaigrette) is available. Others include Chicken and Sweet Potato, Blackened Beef, Southwestern Fried Oyster, Seared Yellowfin Tuna, and a Vegetable Napoleon. The Balsamic Vinaigrette is legendary. "It's one of—if not the first—such balsamic vinegar-based dressings to be offered in Jackson and probably Mississippi," Blumenthal says. We know a lot of readers who will be thrilled to have this recipe now in their repertoire.
"Bravo! is a restaurant created by two men who care about quality and experience," says Blumenthal. And with its new look, innovative menus, and Good and Blumenthal shepherding the way, it's set to enjoy another quarter-century of success.
BALSAMIC VINAIGRETTE
¾ cup balsamic vinegar
2 ounces water
¾ tablespoon garlic, minced
1 tablespoon Zatarain's Creole mustard
3 ounces sugar
2 teaspoons dry Italian seasoning
1 teaspoon ground black pepper
½ teaspoon salt
2 cups olive oil
Place all ingredients except olive oil in a food processor fitted with S-blade. May also place in a blender. Turn on processor and slowly pour in olive oil until vinaigrette thickens and is fully emulsified.
Yield: 3 cups
Bravo!
Open Tuesday to Saturday 11 a.m. – 10 p.m.
Sunday 11 a.m. – 9 p.m.
4500 I-55 North at Highland Village • Jackson
601.982.8111 or bravobuzz.com.