Sure, this is a burger joint, but walking into Fine & Dandy with the expectation of an average burger joint just won't fly. With starters like Fine Deviled Eggs (topped with smoked trout caviar, dill, and crispy shallots), Baked Cheese (served in a cast-iron skillet—think about cream cheese topped with pepper jelly, bacon, green onions, and almonds and served with Ritz crackers), and the Worst Ribs in Town (smoked pork baby backs smothered in a pepper jelly glaze, crushed peanuts, pickled onions, and chives), run of the mill would never be a moniker here.
When Ray Scott and chef Jesse Houston put their heads together to craft a new burger restaurant for Jackson's new District at Eastover, a desire for a "don't take yourself too seriously" and "grandma chic" concept was developed. "Betty White is our spirit animal," shares Houston. And Houston knows a thing or two about running a successful restaurant and kitchen. After working for culinary greats Tim Byres, Jess Griffiths, and Wolfgang Puck, he moved to Mississippi to open Parlor Market with the late Craig Noone. He later crafted Fondren's hip and trendy seafood restaurant, Saltine. F&D's use of vintage dinnerware and parlor-style décor meld nicely with its laid-back yet understated-fancy menu. "The menu ties in with the theme in providing a sense of the familiar, just with an updated and modern twist," says Houston. "We hope that a fancy burger draws you into the restaurant, but you come back over and over for something new."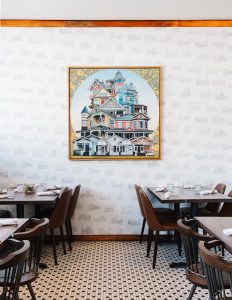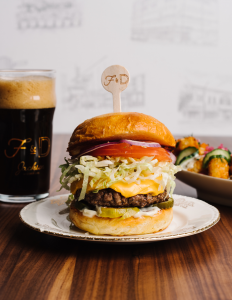 Burgers here are anything but meat and cheese on a bun. The buns are house-made daily by pastry chef Amie Henderson, who also makes the delicious desserts. And they only use house-ground beef. "We take pride in grinding our beef in-house, baking fresh buns daily, and all of our scratch sauces," says Houston. "Even the bacon is made in-house and is a labor of love." When these beef patties are topped with amazing combinations like The Fine & Dainty (burrata cheese, dried tomato pesto, green goddess dressing, and basil leaves) or The Byron (house bacon, Swiss cheese, malt vinegar mushrooms, crispy shallots, and roasted garlic mayo), it's hard to make a decision.
Opt for one of F&D's many salads (like Couscous & Cauliflower or Achy Breaky Hearts of Palm), one of the great daily lunch specials (like the Shrimp and Crawfish Roll and Cordie Lew's Fried Chicken), or one of its regular sandwich offerings (the Cap'n Catfish features Captain Crunch-crusted Simmons Catfish Delacata, country captain sauce, pickled raisins, and onions). But, indeed, one of the highlights of Fine & Dandy's menu is its milkshakes. Of course, you have kid-friendly versions such as the '80s Kid Throwback Shake (Reese's Pieces, Vanilla, and Granny's Peanut Butter Cookie) and O.G. Banoffee (graham crackers, dulce de leche, coffee, and bananas). But its adult shakes are worthy of awards—consider The James Beard Incident (white chocolate ganache, salted caramel, pecans, bruleed sugar, and Cathead pecan vodka) or Cap'n Crunk (Captain Crunch cereal, butterscotch, and Hennessey)—and these have nothing on their specialty drinks.
One of its very popular starters or "snacks" would be its Pickled Gulf Shrimp. Featuring onions, chilies, olive oil, lemon, laurel, and fennel with green goddess and Ritz crackers, it's a great light option and perfect for summertime. This dish "pays homage to the Gulf Coast's abundant shrimp industry and serves it in a light and delicious way," Houston says. Fine & Dandy is a great place to grab a quick bite or enjoy hours of conversation with old friends. No matter the reason, season, or celebration, you'll always feel at home.
PICKLED GULF SHRIMP
3 cups water
2½ tablespoons Old Bay Seasoning
2½ tablespoons kosher salt
Juice of 2 of lemons
¼ cup yellow onion, sliced
1 tablespoon garlic, sliced
¼ cup fennel, sliced
1 pound shrimp, peeled and deveined
¼ cup fresh lemon juice
2½ tablespoons apple cider vinegar
¾ cup olive oil
1½ teaspoons Old Bay Seasoning
1½ teaspoons celery seed
3 thyme sprigs
7 bay leaves
In a large stockpot, add water, Old Bay seasoning, salt, and lemon juice. Bring to a boil. Add sliced onion, garlic, and fennel. Allow to cook until tender, approximately 1 minute. Remove onion, garlic, and fennel, and place on a sheet tray to cool.
Add shrimp to boiling liquid and cook for about 2 minutes, or until just cooked. Remove shrimp from liquid and place on a sheet tray. Refrigerate until cool. Once shrimp and vegetables are cool, mix shrimp  and vegetables with remaining ingredients to marinate. Add to jars, and top with remaining marinade. May refrigerate for up to 2 days.
Fine & Dandy
100 District Blvd., Jackson  •  601.202.5050, eatdandy.com
Open Monday-Thursday, 11 a.m. until 10 p.m.,
Friday and Saturday 11 a.m. until 11 p.m.,
and Sunday 11 a.m. until 9 p.m.