Dutch Ann Foods' pie and tart shells help home cooks make holidays easier.

Perfect for quiches, raves a woman in Texas. No soggy bottoms, boasts a Birmingham blogger. Flaky and flavorful, comments another happy customer. 
For Natchez-based Dutch Ann Foods, the unsolicited accolades pour in from around the Internet in cooking forums and on store websites. Many of these endorsements include the most coveted compliment for a premade product: "They taste just like homemade." People can't seem to keep quiet about this savory-or-sweet secret ingredient that's made right here in the Magnolia State.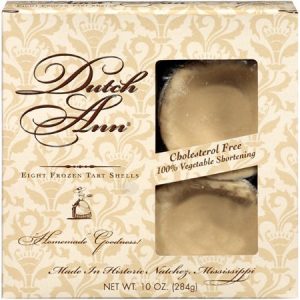 The Dutch Ann story began on the Mississippi Gulf Coast in the mid-1950s, when a duo of husband-and-wife bakers began selling empty pie shells made with a recipe handed down by an ancestor from Germany. In 1962, the pie shell venture was sold to Herold & Miller, a Natchez wholesale grocery company, and the manufacturing process was upgraded. Mississippi home bakers continued to enjoy serving perfect pies with help from Dutch Ann until 1997, when the decision was made to close the business. But a group of friends and businessmen stepped in and saved the day.
"I had worked there part time as a truck loader at night in high school," explains William T. "Bill" Jones Jr. "I thought it would be a neat idea to keep it going. So several of us bought it together to share the risk."
Jones, who now serves as president of Dutch Ann, says the company went through some "misery years" before carving out a niche in the marketplace with the addition of 3-inch tart shells to its product lineup, which also includes 9-inch standard and deep-dish pie shells. A cold call to Walmart led to the product being picked up by a handful of the big-box store's locations. "And then someone from Walmart headquarters in Arkansas said, 'I'll put you in seven of our distribution centers,'" Jones recalls. 
Seven eventually turned into 22 of the retail giant's distribution centers, all around the country. The company added high-speed machinery and is now capable of producing 76,000 tart shells in a single day, all made with only seven simple ingredients. "The demand is unbelievable, but we've got the latest and the greatest equipment," Jones says.
Walmart isn't Dutch Ann's only high-profile wholesale customer. The tart and pie shells can be found in HEB stores in Texas, Harris Teeter on the East Coast, and other familiar grocery chains from New Mexico to Ohio, including Brookshire Brothers, Ingles, and Piggly Wiggly. Caterers clamor for the shells, as do restaurants like local Roux 61, which serves its Corn Maque Choux inside these flaky pastries. The holiday season is the busiest season for Dutch Ann, which prepares all year by producing and staging packages of shells at warehouses in multiple states. 
"Pie crusts are something that people often don't have a lot of success making themselves," Jones says. "Our shells are easy to use, and they really do taste good."
The numbers back up Jones' claims. In 2017, Dutch Ann sold a staggering 72,000 cases of its products, which translates to about 6.5 million individual pie shells. Customers fill them with everything from crawfish to berries to that holiday classic, pecans. Jones calls his own mother-in-law, Doris Britt of Minter City, "one of the best cooks in Mississippi," and put her recipe for pecan pie tarts—which she prepares by the hundreds each year—right on the box so it can be enjoyed by everyone.
What's also on the box in a flowery script are the words "Made in Historic Natchez, Mississippi." It's more than a marketing tactic for Jones.
"It's especially important to me that our packaging has 'Natchez, Mississippi' all over it," Jones says. "I'm proud that my hometown and the state of Mississippi are represented in this positive way."
Granny's Pecan Pie Tarts
3 whole eggs
1 cup white corn syrup
1 cup chopped pecans
1 cup sugar
¼ cup melted butter or margarine
1 teaspoon vanilla
16 Dutch Ann tart shells (2 boxes) 
Using an electric mixer, mix together first 6 ingredients for about 2 minutes. Pour into uncooked tart shells. Bake very slowly at 300 or 325 degrees for 30 to 40 minutes. 
Yield: 16 tarts 
Doris Britt
Minter City
Courtesy Dutch Ann Foods