The beauty and timeless appeal of an antique clawfoot bathtub is undeniable, and it beckons thoughts of a long, relaxing soak. While not many of these cast-iron bathtubs are available (or affordable) today, Restoria Bathtub Company in Shannon is delivering a new variety—the most luxurious, top-quality, and affordable clawfoot bathtub replicas available on the market.
"We started out resurfacing bathtubs in people's homes and at our facility," says Michael Mask, president and chief craftsman of Restoria. "Most of the tubs we refinished at our facility were cast-iron antique clawfoot tubs. These tubs were heavy and difficult to handle."
Recognizing that people wanted the look of a clawfoot tub, but that the cast-iron models were extremely heavy and costly, he decided to design and manufacture an acrylic reproduction. Ultimately, he crafted a version that was lighter, but still had the look and durability of cast-iron bathtubs—and in the process, discovered a niche in the bathroom-design market that his company is now filling both nationally and internationally.
"Restoria bathtubs are handcrafted to mimic the look of Old-World cast-iron bathtubs of yesteryear," Michael says. And Restoria does this by blending the elegance and style of antique bathtubs with modern materials and skilled craftsmanship.
With several styles and finishes to choose from, including clawfoot and pedestal, each Restoria bathtub is handmade at its facility in Shannon, from start to finish, using all American-made materials. Each is custom-built as individual orders are received, with two to three bathtubs typically being completed in one workday.
The bathtubs, which are renowned for their superior design and comfort, each measure 30 inches in width and, depending on the model, can measure anywhere from 60 to 68 inches in length. "Some are designed with a raised back for enhanced soaking comfort," says Michael, adding that the interior of each tub is smooth acrylic with a slip-resistant bottom.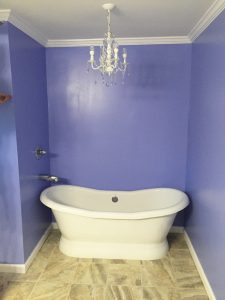 The materials Restoria uses in their products are the finest available. "Restoria takes pride in handcrafting all bathtub models using the best materials on the market," he adds. In fact, their bathtubs are germ-resistant and easy to clean. "The smooth acrylic interior is not as porous as porcelain cast iron; thus, making it much easier to clean and more mildew resistant."
The exterior of each model is reinforced with fiberglass for strength and insulation, and they are built to withstand 1,100 pounds or more. These premium materials also mean that the bathtubs heat up faster and stay warm longer. "The fiberglass reinforced insulation strengthens and insulates the tub, which keeps the water warmer," Michael explains. The exterior color options include white, biscuit, aged copper dark brown, and vintage copper. The exterior can even be painted a custom color to complement a home's décor. The clawfoot and pedestal finishes are customizable as well.
While most of Restoria's products are sold directly to homeowners, many are purchased by interior designers and building contractors. "We have also sold tubs to cruise ships," he notes. The company likewise wholesales to brick- and mortar-dealers as well as online businesses such as Amazon, Houzz, and Wayfair, which has helped market their brand globally.
"We have lived, been educated, worked, and worshiped in Mississippi our entire lives. There is no place else we would rather be."The demand for Restoria bathtubs is booming, and they can be found in almost every state in America and beyond. "For example, our bathtubs have been sold to customers in New York, Virginia, Texas, Michigan, California, Alabama, Florida, Minnesota, Louisiana, and Connecticut, to name a few," he says. "We have also sold tubs to customers in Canada and the Caribbean Islands."
With an innovative business that is custom-creating one-of-a-kind, Mississippi-made bathtubs that are in high demand nationally and internationally, Michael, his family, and employees are proudly—and deeply—rooted in Mississippi.
"We are a Mississippi family-owned business," adds Michael. "We have lived, been educated, worked, and worshiped in Mississippi our entire lives. There is no place else we would rather be."
Visit restoriabathtubs.com for more information.