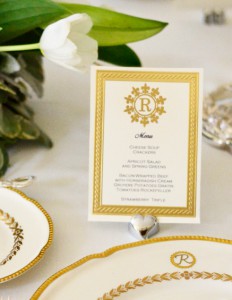 Since everyone is caught up in the Downton Abbey era, I thought an elegant manor house dinner might be jolly good fun.
Send a very formal printed invitation with a monogram and gold edges, of course, and ask guests to dress in elegant Edwardian attire. Set the table with crisp white linens, silver candelabras with tall white candles, and an abundance of beautiful fresh flowers in silver bowls. Add monogrammed china (this can be done with gold stickers from the craft store), sterling silver flatware for each course, and etched and cut crystal goblets. Place monogrammed, gold-rimmed menu cards (printed on your computer and monogrammed with stamps or stickers) above each plate along with individual antique silver salt cellars with tiny salt spoons, pepper shakers, and mustard pots. Have a butler (your husband) in a tux with white gloves welcome guests at the door of the mansion with a little bow.
For the menu, serve creamy Cheese Soup with bread sticks followed by Apricot Salad molded in a tall vintage mold and served on a plate of spring mix salad greens with fresh orange slices and apricots. And for the entrèe, have Carson (your husband) serve Eye of Round with Horseradish Cream plated with Gruyere Potatoes Gratin and Tomatoes Rockefeller with garnishes. The dinner is as delicious as it is beautiful. For dessert, in the English tradition, individual Strawberry Trifles served in elegant etched-glass compotes with coffee create the absolute perfect ending to the elegant and fun evening of another era. (Oh, be sure to allow the butler to join you and your guests for dinner after he serves each course.)
Cheese Soup
½ bunch green onions, chopped (including small white bulbs)
1 stalk celery, chopped
3 tablespoons margarine
2 tablespoons flour
1 (10¾-ounce) can cream of chicken soup
2 (15-ounce) cans chicken broth
Dash Tabasco Sauce
1 pound Velveeta cheese, cut into pieces
3 cups shredded Cheddar cheese
2 cups milk
Salt, black pepper, and white pepper to taste
Ground red pepper (optional)
In a large saucepan over medium heat, sauté onions and celery in margarine until tender. Stir in flour. Add soup, chicken broth, and Tabasco. Stir in Velveeta until melted. Add shredded Cheddar, and stir until combined. Add milk, salt and peppers. Simmer for 20 minutes.
Yield: 14-16 servings
Apricot Salad
1 (6-ounce) package apricot or orange gelatin
2 cups boiling water
1 (20-ounce) can crushed pineapple
1 (8-ounce) package cream cheese, softened
1 (15-ounce) can apricot halves, drained, peeled, and chopped
½ cup chopped walnuts
1 (8-ounce) container whipped topping
Mixed spring salad greens
For garnish: apricots, orange slices, and mint
In bowl, dissolve gelatin in boiling water. Drain pineapple; reserve juice. Add pineapple to gelatin in boiling water, and set aside. With mixer, beat cream cheese until creamy. Add reserved pineapple juice, and beat until smooth. Stir in gelatin mixture. Chill until partially set, stirring occasionally. Stir in apricots (reserving a few for garnish) and walnuts. Fold in whipped topping. Pour into mold or individual molds that have been greased with mayonnaise. Chill until firm. Unmold and garnish with apricots, orange slices, and mint. Serve on a bed of lettuce
Yield: 12-16 servings
Eye of Round with Horseradish Cream
1 (5- 6-pound) eye of round roast
¼ cup vegetable oil
½ cup red wine vinegar
½ cup lemon juice
½ cup soy sauce
½ cup Worcestershire sauce
2 tablespoons lemon pepper seasoning
For marinade, in a bowl, combine oil, vinegar, lemon juice, soy sauce, Worcestershire sauce, and lemon pepper seasoning. Pour over roast in a large glass baking dish. Refrigerate for 24 hours, turning once. Remove from refrigerator for 1 hour. Preheat oven to 275 degrees. Bake uncovered in marinade for 3 hours. Chill several hours or overnight. Remove and slice thin. Warm and serve with heated marinade or Horseradish Cream.
Yield: 12-16 servings
Horseradish Cream
1 cup whipping cream
¼ cup horseradish
1 tablespoon chopped fresh parsley
¼ teaspoon salt
With mixer, beat whipping cream at medium speed until soft peaks form. Fold in remaining ingredients. Serve immediately, or cover and chill up to 8 hours.
Yield: 2¼ cups
Gruyere Potatoes Gratin
5 pounds red potatoes
2½ cups heavy cream
Salt and black and white pepper to taste
½ teaspoon nutmeg
2 cups grated Gruyere cheese
Preheat oven to 350 degrees. Peel potatoes and slice thin using the slicing blade of the food processor or slice about ¼ inch thick. Layer and cover with cream, and sprinkle with seasonings between layers. Top with cheese. Bake for 45 minutes. Remove from oven and allow to rest for 10 to 15 minutes before serving.
Yield: 12-16 servings
Tomatoes Rockefeller
1 (8-ounce) package cream cheese, softened
¼ cup mayonnaise
¼ cup grated Parmesan cheese
¼ cup grated Romano cheese
¼ teaspoon seasoned salt
½ teaspoon red pepper
2 (10-ounce) boxes frozen chopped spinach, thawed and well drained
1 (14-ounce) can artichoke hearts, drained and chopped
6 small tomatoes, halved
¼ cup shredded Mozzarella cheese
½ cup breadcrumbs
Preheat oven to 350 degrees. With mixer, beat cream cheese until creamy. Add mayonnaise, and beat until combined. Stir in Parmesan and Romano cheeses. Add seasoned salt and pepper. Add spinach and artichoke hearts. Mound 2 tablespoons on top of each tomato half. Sprinkle each half with Mozzarella cheese and breadcrumbs. Place on a foil-lined baking sheet. Bake for 15 minutes, covered with foil. Remove foil and bake for 10 minutes.
Yield: 12 servings
Strawberry Trifle
1 (5-ounce) box instant lemon pudding
2 pints fresh strawberries
2 cups heavy whipping cream
2 tablespoons sugar
½ teaspoon vanilla
3 (8-ounce) packages ladyfingers
4 crushed amaretto cookies
½ cup sliced, toasted almonds
Prepare lemon pudding according to package directions; chill. Slice strawberries, reserving a dozen small berries with leaves for garnish. With cold mixing bowl and beater, beat cream until soft peaks form. Beat in sugar 1 tablespoon at a time until dissolved. Beat in vanilla. Line edges of each individual compote with 4 ladyfingers. Place one ladyfinger in the bottom of each compote. Layer each compote with 1½ tablespoons lemon pudding, sliced strawberries, 1 tablespoon whipped cream, another ladyfinger, and repeat layers ending with whipped cream. Sprinkle with cookies and almonds and top each dessert with a strawberry.
Yield: 12 servings