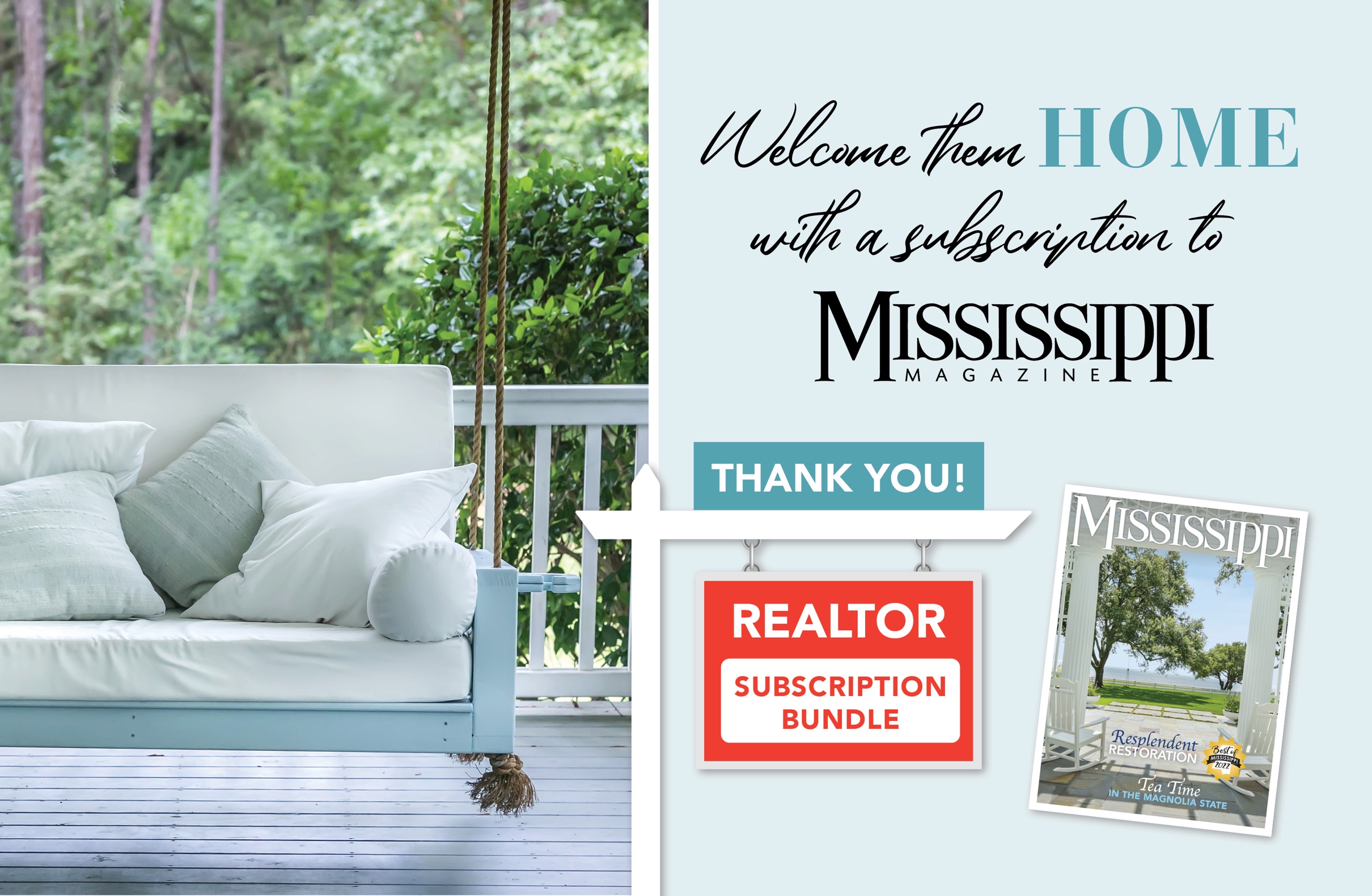 After more than 40 years of bringing the best of Mississippi to our readers, no one knows this state like we do.
Except you.
Which is why we here at Mississippi Magazine want to partner with you to share the positive stories about this great state with your clients, colleagues, and friends.
As the state's premier lifestyle publication, Mississippi Magazine makes a perfect gift for new homeowners, newcomers to our state, and—let's face it!—anyone with a mailbox and a few minutes to thumb through our beautiful pages.
Every bi-monthly issue of Mississippi Magazine brings our readers colorful features ranging from travel and culture to homes, gardens, and outstanding recipes perfect for entertaining. We also shine the spotlight on seasonal favorites from holiday décor, events, and parties to the always-popular Wedding Register issue. And don't forget about the Best of Mississippi award-winners that we announce each year. These are perfect resources for newcomers and longtime residents alike.
And now the magazine is beginning a fresh chapter under the new ownership of Leigh and Todd Reeves of Snapshot Publishing. Drawing on a deep well of experience in the publishing industry, we'll still be bringing you all of your favorite content, all year long, from cover to eye-catching cover.
And we want you to be part of spreading all this good news!
As a special offer just for real estate agents, we are offering sets of 10 one-year subscriptions for just $59. That's only $5.90 for each six-issue subscription, or less than a dollar per issue! 
You can purchase as many sets of 10 subscriptions at this deeply discounted rate as you'd like! And we encourage you to forward this exclusive invitation to your colleagues. 
New subscriptions can begin as early as the May/June 2023 issue.  We will need to have your order by March 31, 2023.
Your subscription gift recipients can be clients, friends, family members, out-of-state loved ones—anyone you choose! We will notify each recipient with a personalized note that can include your name, email, phone number, and company logo, if desired. Mailing labels can be personalized with your name or company's name.  
Click here to get your exclusive 10-subscription discount! 
That's 10 / 1-year subscriptions for a total of only $59!
Let's celebrate Mississippi together!