OOEY-GOOEY  GOBLIN BALLS
1 cup candy corn
8 cups popcorn
¼ cup butter, plus extra to grease hands 1 bag marshmallows
Food coloring
Pour candy corn and popcorn in a large mixing bowl; set aside. Melt butter, then add marshmallows; stir constantly until mixture is melted. Pour over popcorn and candy corn. For various colors, separate marshmallow mixture and add food coloring in desired colors. Make sure to mix thoroughly as candy corn can go to the bottom due to its weight. When cooled, grease hands with butter and form 2-inch balls.
Yield: 15-20 balls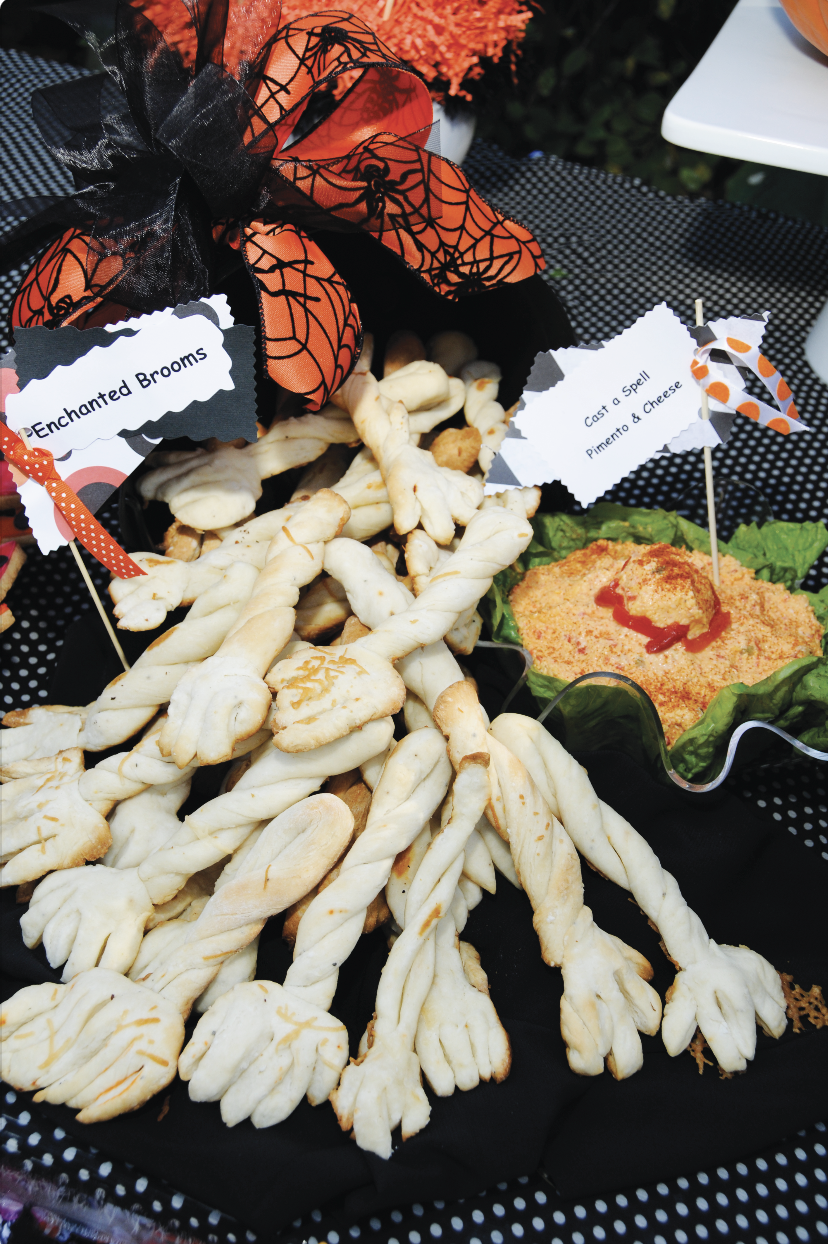 ENCHANTED BROOMS
2⅓ cups biscuit mix
⅔ cup of milk
1 teaspoon Italian seasoning
3 tablespoons butter, melted
¼ cup grated Parmesan cheese
Preheat oven to 450 degrees. Combine biscuit mix, milk, and Italian seasoning in a large bowl. Turn onto a lightly floured surface, and knead 10 times. Divide into 30 portions, and set 15 aside. Roll remaining 15 pieces into 7-inch ropes for broom handles; fold in half and twist. Place on ungreased baking sheets.
Shape reserved pieces into 2½-inch circles; cut with scissors to form a bundle of broom twigs. Place below each broom handle; pinch edges to seal. Brush with butter, and sprinkle with Parmesan cheese.
Bake for 10-12 minutes or until light brown. Can be served warm or cool. 
Yield: 15 servings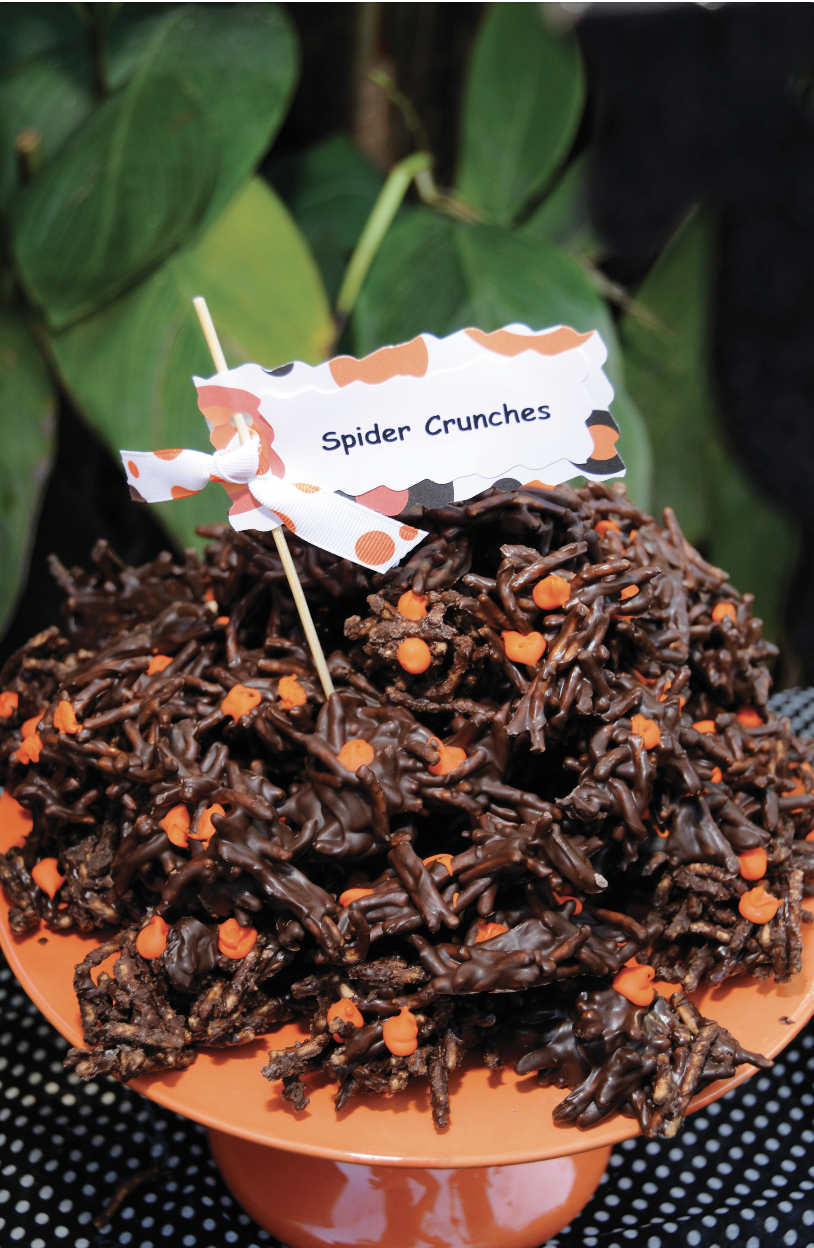 SPIDER CRUNCHES
1 (10-ounce) package chocolate chips 
1 package Chinese noodles (or small pretzel sticks)
Orange-tinted icing
Using a microwave safe bowl, melt chocolate chips at 30-second intervals, stirring constantly until melted. Pour mixture over noodles, and mix thoroughly with a rubber spatula. Stir gently to avoid too much breakage. Drop by rounded tablespoonfuls onto waxed paper, and allow to dry. Use orange icing to create eyes for each spider.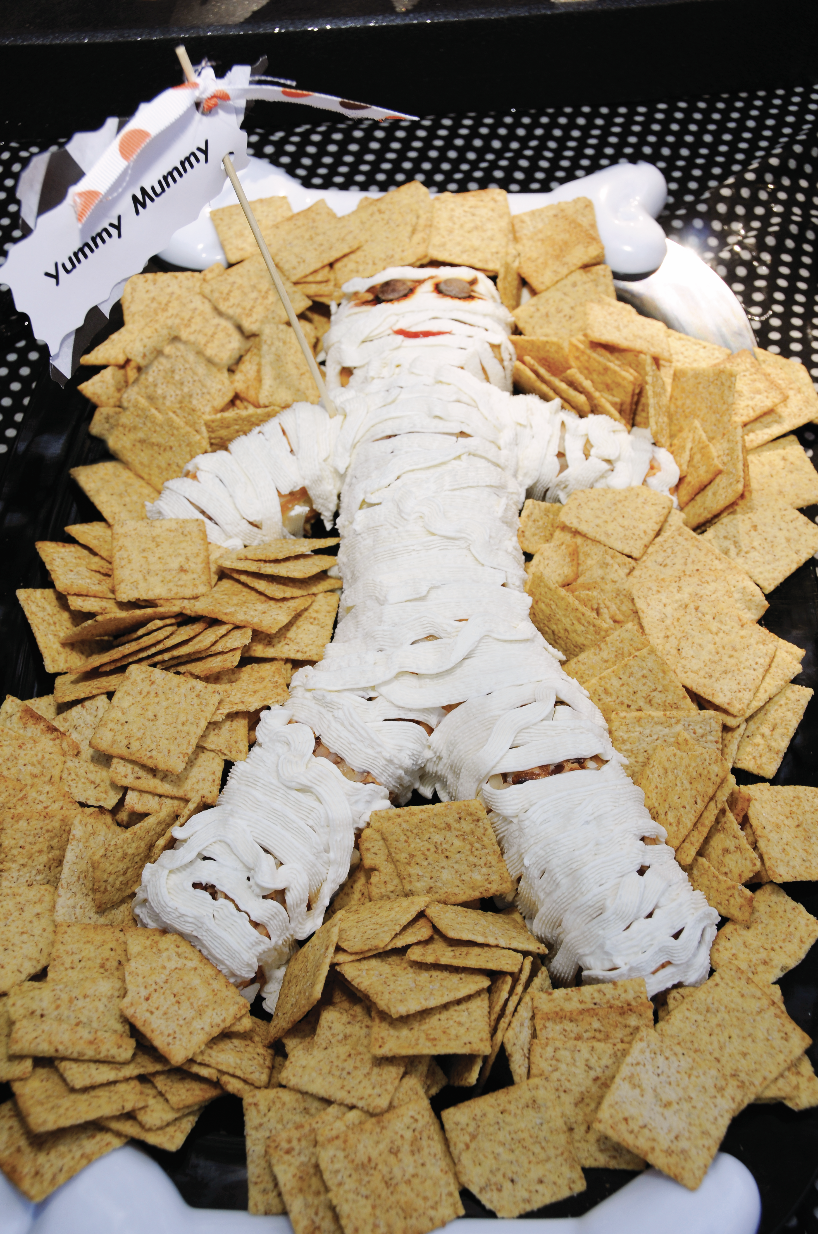 YUMMY MUMMY
2 cheese logs
1 (8-ounce) package cream cheese
1 tablespoon milk
2 whole peppercorns or 2 black M&M's 1 pimiento strip or 1 piece red licorice Assorted 
crackers
Cut cheese logs into pieces for mummy's head, body, arms, and legs, and arrange on a serving tray. In a small bowl, beat cream cheese and milk. Cut a small hole in the corner of a plastic bag, and insert a basket-weave tip. Pipe rows across the mummy to create "bandages." Add peppercorns or M&M's 
for eyes and a pimiento strip or red licorice strip for mouth. Chill until ready to serve. Can be made several days in advance.
Serve with assorted crackers.
 Yield: 24 appetizer servings