Feeling nostalgic and in the mood for a good old-fashioned burger? Stop in Phillips Grocery in Holly Springs. Built as a saloon in 1882 by a returning war veteran, it thrived until Prohibition, when it was then turned into a grocery store.
The Phillips family purchased it in 1948, and hamburgers were added to the menu. It changed hands again in 1977, and again in 1989 when Larry Davis acquired it. Over time, the groceries were slowly phased out, but the burgers have remained, using the same 1948 Phillips recipe. Its burgers are served as they have always been, which Davis explains is with mustard, pickles, and onions. You can ask for ketchup, but I get the feeling it is frowned upon.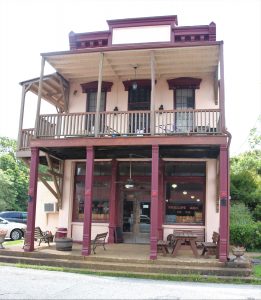 Phillips has a simple business plan: it is old-time in every way; so don't even think about coming here with a credit or debit card. No way. The walls are covered with antique signs, advertising everything from men's overalls to Beech-Nut gum, and vintage soft drink bottles are everywhere. Remember Royal Crown and Nehi Cola? Perhaps the most obvious statement that pays ode to sentimental ways is that there isn't a flat-screen TV in sight.
The menu is pretty simple and includes 10 burgers—from a basic burger for $3.25 to the Phil-Up burger that sells for $4.75. I chose the Phil-Up, and it was pretty darn good: a 1/3 -pound burger topped with two kinds of cheese, bacon, and ham. I also grabbed a side of onion rings (my weakness) and could not have been happier. Other burgers include cheeseburger, double, and deluxe; a patty melt; and a few choices for kids.
There are a couple of sandwich selections: bologna, ham salad, ham and cheese, and a few others, but most folks that come here go for the hamburgers. Homemade old-timey fried pies are also on the menu and seem popular.
I think I have made it clear that this place is old-fashioned, and I don't mean retro. Retro is an imitation of a past style, but Phillips is a step back in time. And it is not just the age of the building and the collectibles that fill it. People seem to come here for a respite from modern times. You won't find anyone checking a cell phone or logging onto a laptop. You will find like-minded folks discussing the topic of the day and enjoying a few peaceful moments before they head back down the street into today's world.
Just across the street from Phillips is the old Holly Springs train depot. It helps to set the mood and is the most beautiful train station I have seen in the state. The only thing missing is a rocking chair or two on the front porch. There is a picnic table, but if there had been a rocking chair, I just might have sat down and stayed a while longer.
541 E. Van Dorn Ave., Holly Springs
662.252.4671
Open Monday-Saturday, 10 p.m. to 4 p.m., and Saturday until 5:30 p.m.