Valentine's Day is the perfect opportunity to share love with those who are special. Send a lacy Valentine invitation and have a few girlfriends or mothers and daughters over for an elegant ladies' luncheon with golden hearts at each plate and lots of pink flowers. The menu is also perfect for a couples' dinner party or a candlelit dinner for just you and your sweetheart. 
The table is set with a French Valencia lace tablecloth and vintage damask pink monogrammed napkins tied with soft dupioni silk bows accented with small golden heart ornaments. Printed name cards rest on antique reverse-cut cameo intaglio place card holders, and printed menu cards are at each place setting.  Pink and gold Old Paris breakfast plates combine old and new atop gold scalloped Vanessa chargers by Studio 10 Strawberry Street. The tablescape is completed with crystal and silver and a garland of fresh greens, ferns, golden hearts, ribbons, and floral heart-shaped centerpieces of roses and Dusty Miller. Even salads are placed on plates in heart shapes, and pink French macaron desserts present the perfect light sweet ending. And if you want to make your meal even easier, purchase your salad dressing and macarons. A pink and feminine setting and delicious offerings for a very special occasion to share love!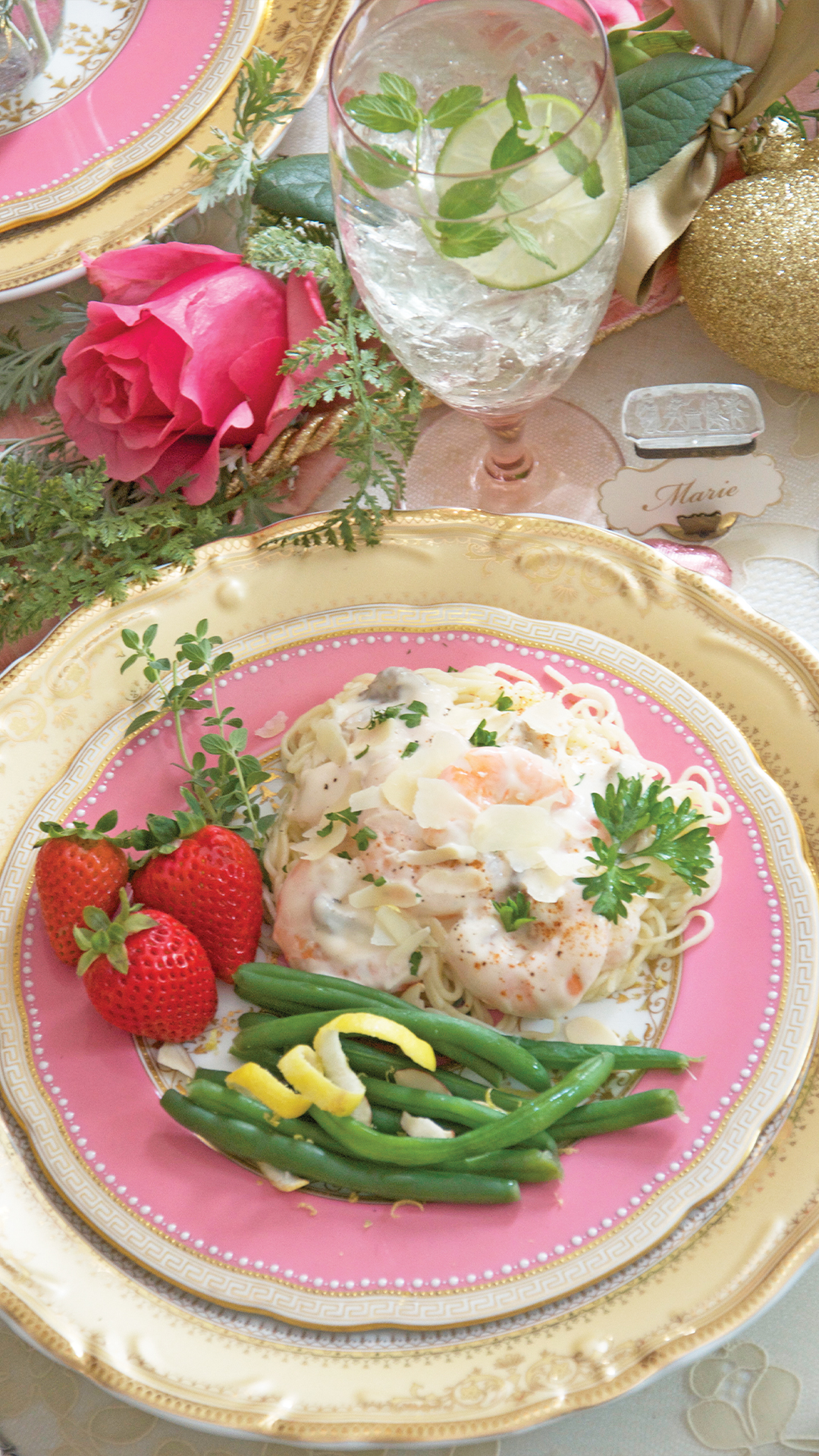 MENU
Fig and Walnut Tartlets
Creamy Broccoli Cheese Soup

 
BLT Salad with Rèmoulade Dressing
Shrimp Alfredo 
Fresh Green Beans 
Gruyêre Popovers
Pavlovas with Lemon Cream
and Raspberries 
Fig and Walnut Tartlets
½  (15-ounce) package pie crusts
⅓  cup finely chopped dried figs 
1 tablespoon brown sugar
¼ teaspoon ground cinnamon
¼  cup chopped walnuts
½  cup crumbled Gorgonzola cheese
1 tablespoon honey
Preheat oven to 425 degrees. Unroll one pie crust on wax paper. Using a 2-inch round cookie cutter, cut 24 rounds. Press each round in the bottom and up the sides of 24 mini muffin cups; set aside. In a bowl, combine figs, brown sugar, cinnamon, and walnuts. Spoon 1 teaspoon into each cup. Top each with 1 teaspoon cheese. Bake for 9-11 minutes until bubbly and golden brown. Drizzle with honey.
Yield: 24 tartlets
Creamy Broccoli Cheese Soup 
16 ounces broccoli florets
2 cups chicken broth, divided
1 large onion chopped
1 stick butter
1 heaping tablespoon flour
2 (10.75-ounce) cans mushroom soup
1 (14.25-ounce) can evaporated milk
8 ounces Velveeta cheese
Cook broccoli in 1 cup chicken broth until tender, and purée until creamy. Sauté onion in butter until tender. Add flour to onions, and stir until smooth. Add puréed broccoli, remaining cup chicken broth, mushroom soup, and evaporated milk to onion mixture and simmer for 20 minutes. Add cheese and simmer until melted. Do not boil soup.
Yield: 6-8 servings 
BLT Salad with Rèmoulade Dressing
1 (16-ounce) bag baby spring greens mix
1 (12-ounce) container cherry tomatoes, sliced
1 (4.3-ounce) package real bacon bits
Place salad greens in the shape of a heart on each dinner plate. Randomly place tomatoes around the heart of salad greens. Sprinkle bacon bits over salad greens and tomatoes, and drizzle with Rèmoulade Dressing.
Yield: 6 servings
Rèmoulade Dressing:
1 cup mayonnaise
¼  cup white vinegar
⅓ cup ketchup
2 tablespoons Creole mustard
½  teaspoon garlic powder
½ teaspoon onion powder
½ teaspoon celery salt
½  teaspoon Tony Chachere's Creole Seasoning
In a bowl, combine all ingredients. Chill until serving.
Yield: 1½ cups
Shrimp Alfredo over Angel Hair Pasta
1 (16-ounce) box angel hair pasta
2 tablespoons olive oil, divided
1 pound shrimp, peeled and deveined
Salt, black pepper, and paprika to taste
2 tablespoons butter
1/4 cup finely chopped onion
1 garlic clove, finely chopped
1/3 cup white wine
2 tablespoons heavy whipping cream
1/3 cup grated Parmesan cheese
For garnish: fresh parsley, Parmesan cheese, and cracked black pepper
In a saucepan over medium heat, cook pasta al dente according to package directions. Drizzle with 1 tablespoon of olive oil and set aside. Season shrimp with salt, pepper, and paprika. In a skillet, heat remaining tablespoon olive oil; add shrimp and cook in a single layer for 1-2 minutes per side until they are pink. Remove to bowl; set aside. Add butter to pan and sauté onion. Stir in garlic, and sauté another minute. Stir in wine and reduce by a fourth, deglazing the pan. Stir in cream and heat for 2 minutes. Sprinkle with cheese and stir until creamy and smooth. Add additional salt, pepper, and paprika to taste. Turn off heat and add shrimp. Serve over pasta and sprinkle with parsley, cheese, and pepper.
Yield: 6 servings
Fresh Green Beans 
1 pound fresh haricot vert beans
3 tablespoons butter, melted
Zest and juice of 1 lemon
Salt and black pepper to taste
Preheat oven to 350 degrees. In a saucepan, bring one inch of salted water to a boil. Place beans in pan or in a steamer insert. Steam for 4 minutes. Remove from heat, and plunge in ice water for 3-4 minutes. Place beans in a greased pan and bake for 5 minutes. Remove and drizzle with butter, zest, and juice.
Yield: 6 servings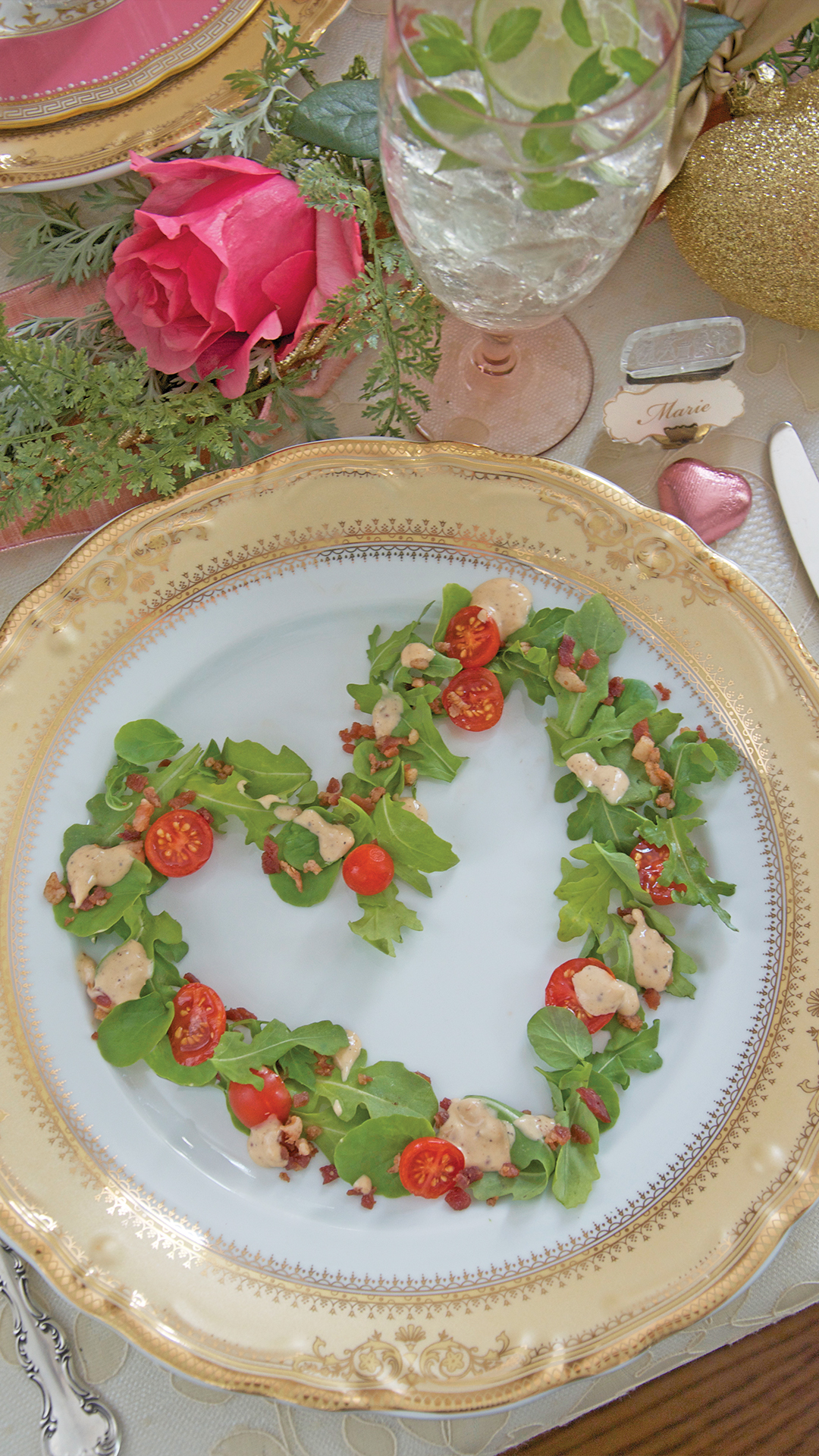 Gruyère Popovers
8 eggs
4 cups milk, warmed
4 cups all-purpose flour
1½  tablespoons salt
2½  cups Gruyere cheese, grated
Preheat to 350 degrees, and place popover pan in oven. In a bowl, whisk eggs until foamy, and slowly whisk in warm milk; set aside. In a bowl, sift flour and salt. Add to milk mixture, and combine until smooth. Remove pan from oven; spray with nonstick cooking spray. Fill popover cups 3/4 full of batter; top each with 21/2 tablespoons cheese. Bake for 50 minutes, rotating pan half a turn after 15 minutes of baking.
Yield: 12 popovers
Pavlovas with Lemon Cream  and Raspberries
4 egg whites
¼ teaspoon cream of tarter
¼ teaspoon salt
1 cup sugar
Pink food coloring
Preheat oven to 200 degrees. With mixer, beat egg whites, cream of tarter, and salt until frothy. Gradually beat in sugar. Add pink food coloring, and beat until stiff peaks form. Spoon into piping bag with large round tip. Pipe into 2½-inch rounds on a parchment-lined baking sheet. Bake for 2 hours, turning once. Turn off oven, and open door to dry out 10 minutes. Remove to wire rack. 
Lemon Cream and Raspberries: 
1½ cups heavy whipping cream
6 tablespoons confectioners' sugar
1 teaspoon vanilla
Zest of 1 lemon
¼ cup lemon curd
1 pint fresh raspberries 
¼  cup toasted almonds
With mixer, beat whipping cream until thickened. Gradually beat in confectioners' sugar until creamy. Beat in vanilla and zest. Fold in lemon curd. To assemble, place 2 tablespoons Lemon Cream on a plate, add raspberries and almonds, and top with a pavlova.
Yield: 12 servings