Lush green ferns and blooming branches, spring bulbs, bunnies, and eggs filled with single blooms create the perfect background for an easy Easter brunch buffet served on the sideboard. Set the table with Grandma's beautiful antique floral dishes in bright spring colors with sparkling crystal, silver, and pristine white napkins. Tuck small fern fronds or fresh herbs into each napkin ring or place a special egg at each place setting. Line the center of the table with pots of colorful blooming bulbs and small lacy ferns, green moss, and eggs to create an almost effortless center of attention. Go to a special sunrise Easter church service, and return home rejoicing with family and friends to this welcoming spring meal for the senses. Serve the colorful brunch with easy recipes that are prepared ahead of time and warmed as guests arrive. The menu is light and touched with fresh flavors from tomatoes and spinach to sweet citrus ambrosia and baked oatmeal. The sweet ending is a delicious and refreshing Lemon Icebox Cake. End the day with a fun egg hunt for the children, and enjoy! Happy Easter! Welcome spring!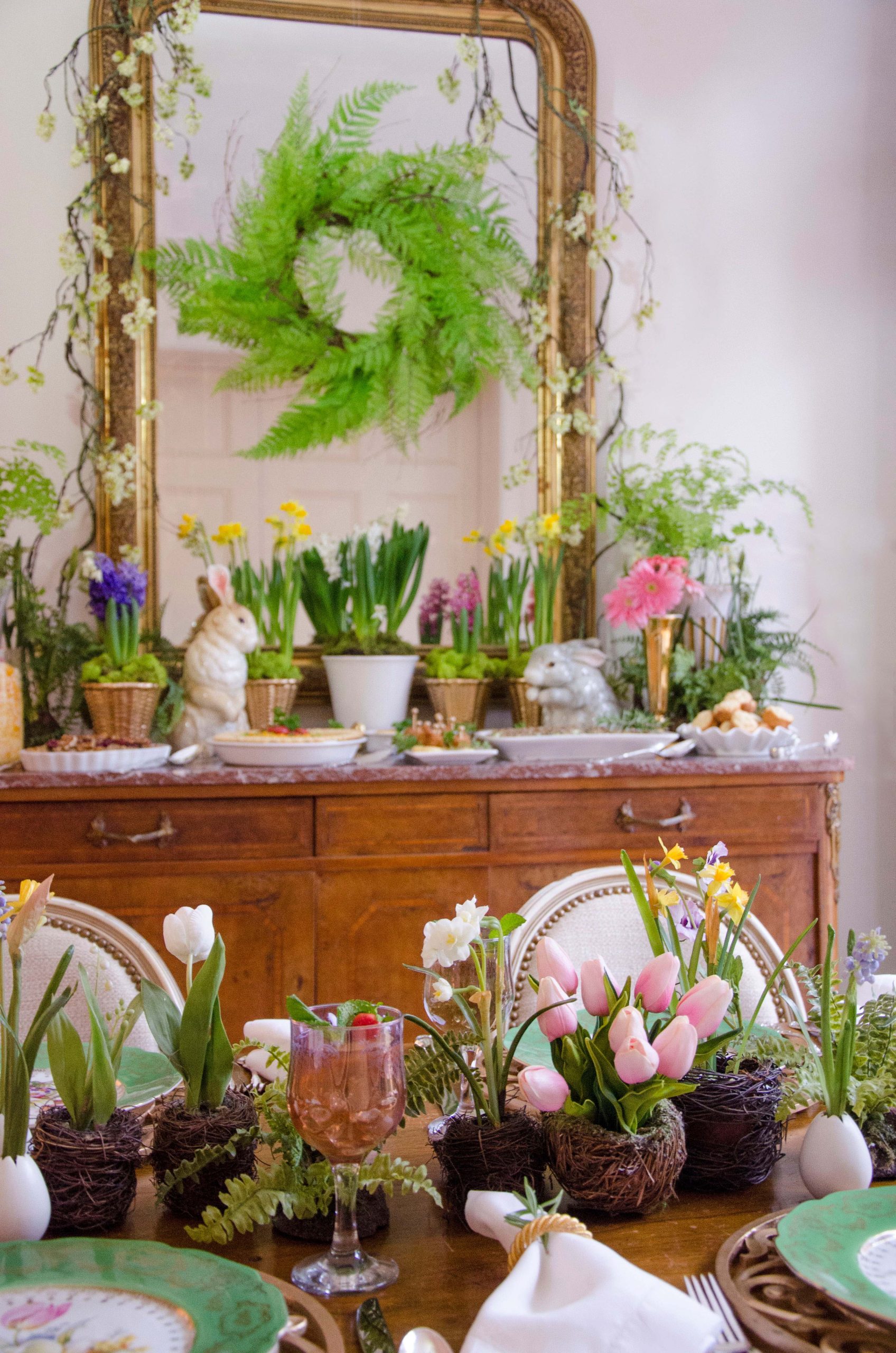 MENU
Easy Ambrosia
Spinach and Cheese Casserole
Tomato Gravy Cheese Grits
Chicken and Waffles
Tomato Pie
Baked Oatmeal
Lemon Icebox Cake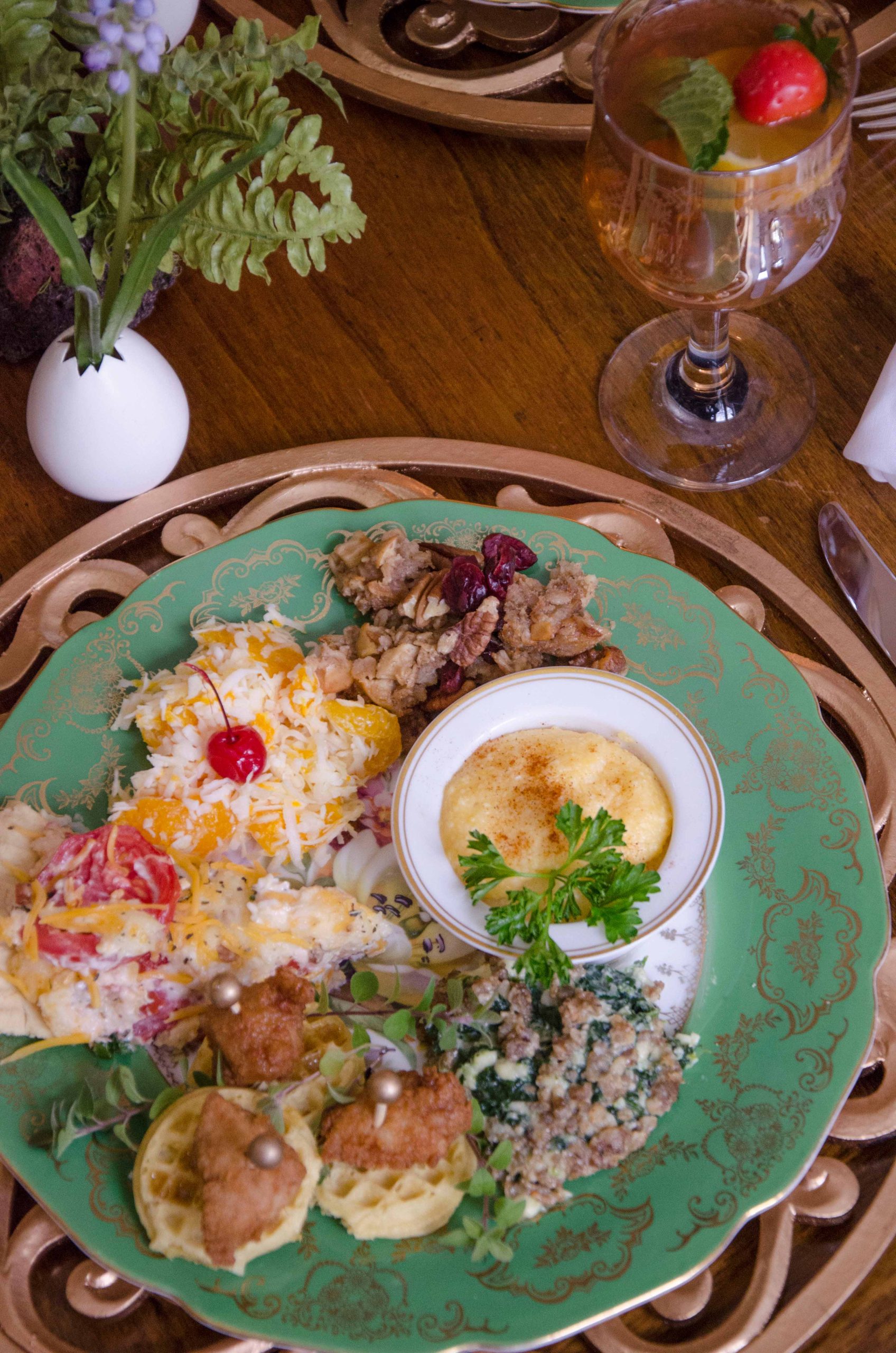 EASY AMBROSIA
2 (15-ounce) cans Mandarin oranges, drained
2 teaspoons sugar
1 (14-ounce) package grated coconut
1 (8-ounce) can crushed pineapple, slightly drained
For garnish: maraschino cherries with stems
In a bowl, combine orange sections, sugar, coconut, and crushed pineapple. Top with cherries.
Yield: 16-20 small servings
SPINACH AND CHEESE CASSEROLE
1 pound ground sausage
2 (10-ounce) packages frozen chopped spinach
9 eggs
1 stick butter, softened
1 (16-ounce) container cottage cheese
½ pound Swiss cheese, grated
1 (8-ounce) container feta cheese
¼ teaspoon ground nutmeg
½ teaspoon freshly ground black pepper
Preheat oven to 350 degrees. Butter a 9 x 13-inch casserole dish or 18 muffin cups; set aside. In a skillet, brown sausage; drain well, and set aside. Cook spinach according to package directions, and drain well, removing excess water; set aside. With fork, beat eggs lightly. Add butter and cheeses, and mix well. Stir in spinach, nutmeg, and pepper. Pour mixture into prepared casserole or muffin cups. Sprinkle with sausage. Loosely tent with foil to prevent over-browning. For casserole, bake for 50 to 60 minutes or until knife inserted into middle comes out clean. For muffin cups, bake for 20-30 minutes.
Yield: 18-20 servings
Lisa Welch, Brandon
TOMATO GRAVY CHEESE GRITS
2 (14.5-ounce) cans chicken broth
½ teaspoon salt
1 cup quick-cooking grits
1 (10-ounce) can Rotel diced tomatoes and green chilies, drained
1 cup shredded cheddar cheese
Preheat oven to 275 degrees. In a saucepan over medium heat, bring broth and salt to a boil. Stir in grits and tomatoes and chilies. Return to boil, stirring often. Cover, heat, and cook for 7 to 10 minutes. Remove from heat, and stir in cheese. Pour into 9 x 13-inch greased baking dish. Bake for 10 to 15 minutes covered with foil.
Yield: 8-10 servings
CHICKEN AND WAFFLES WITH SPICY SAUCE
1 (10.9-ounce) package Eggo Waffle Minis
40 fried chicken nuggets
Preheat oven to 400 degrees. Place waffles on parchment-lined baking sheet. Bake for 5 minutes. Remove from oven, and cut apart. Skewer 1 chicken nugget on each waffle, and drizzle with Spicy Sauce.
Yield: 40 appetizer servings
SPICY SAUCE:
1 cup honey
1 tablespoon Tabasco Sauce
⅛ teaspoon salt
½ teaspoon Tony Chachere's Creole Seasoning
In a large glass measuring cup, stir together ingredients, and microwave for 45 seconds on defrost until warm.
Yield: 1 cup
TOMATO PIE
4 fresh Roma tomatoes, sliced
1 (9-inch) deep-dish pie crust
1 tablespoon Italian seasoning
1 teaspoon oregano
1 teaspoon chopped fresh chives
Salt, black pepper, and white pepper to taste
1 cup mayonnaise
1 cup finely shredded mild cheddar cheese
Preheat oven to 350 degrees. Drain tomatoes in a single layer on a paper towels; sprinkle with ½ teaspoon salt. Drain for 45 minutes. Pat dry. Lightly prick bottom of pie crust with fork. Bake crust until very light brown. Remove from oven to wire rack to cool. In a small bowl, combine Italian seasoning, oregano, chives, salt, and peppers; set aside. In a bowl, combine mayonnaise and cheese; set aside. Spread half of tomato slices in a single layer in crust; sprinkle with half of seasoning mixture; spoon half of mayonnaise mixture over tomatoes. Repeat layers. Bake for 10 to 15 minutes until golden brown. Remove to wire rack; let rest for 5 minutes before serving.
Yield: 6 servings
BAKED OATMEAL
⅔ cup oil
½ cup sugar
½ cup brown sugar
2 eggs, beaten
4 cups oatmeal (old-fashioned)
3 teaspoons baking powder
1 teaspoon salt
1 teaspoon cinnamon
1½ cups milk
2 apples, unpeeled and finely chopped
2 (3.4-ounce) packages dried cherries or blueberries
1 cup chopped walnuts or pecans
Preheat oven to 350 degrees. In a bowl, stir together oil, sugars, and eggs. In another bowl combine oatmeal, baking powder, salt, cinnamon, milk, apples, berries, and nuts. Add oatmeal mixture to egg mixture, and blend. Pour into 9 x 13-inch greased pan. Bake for 25 to 30 minutes or until knife inserted in center comes out clean, stirring every 7 minutes. Refrigerate, and warm as needed.
Yield: 12-16 servings
Beverly Swift, Knoxville, Tennessee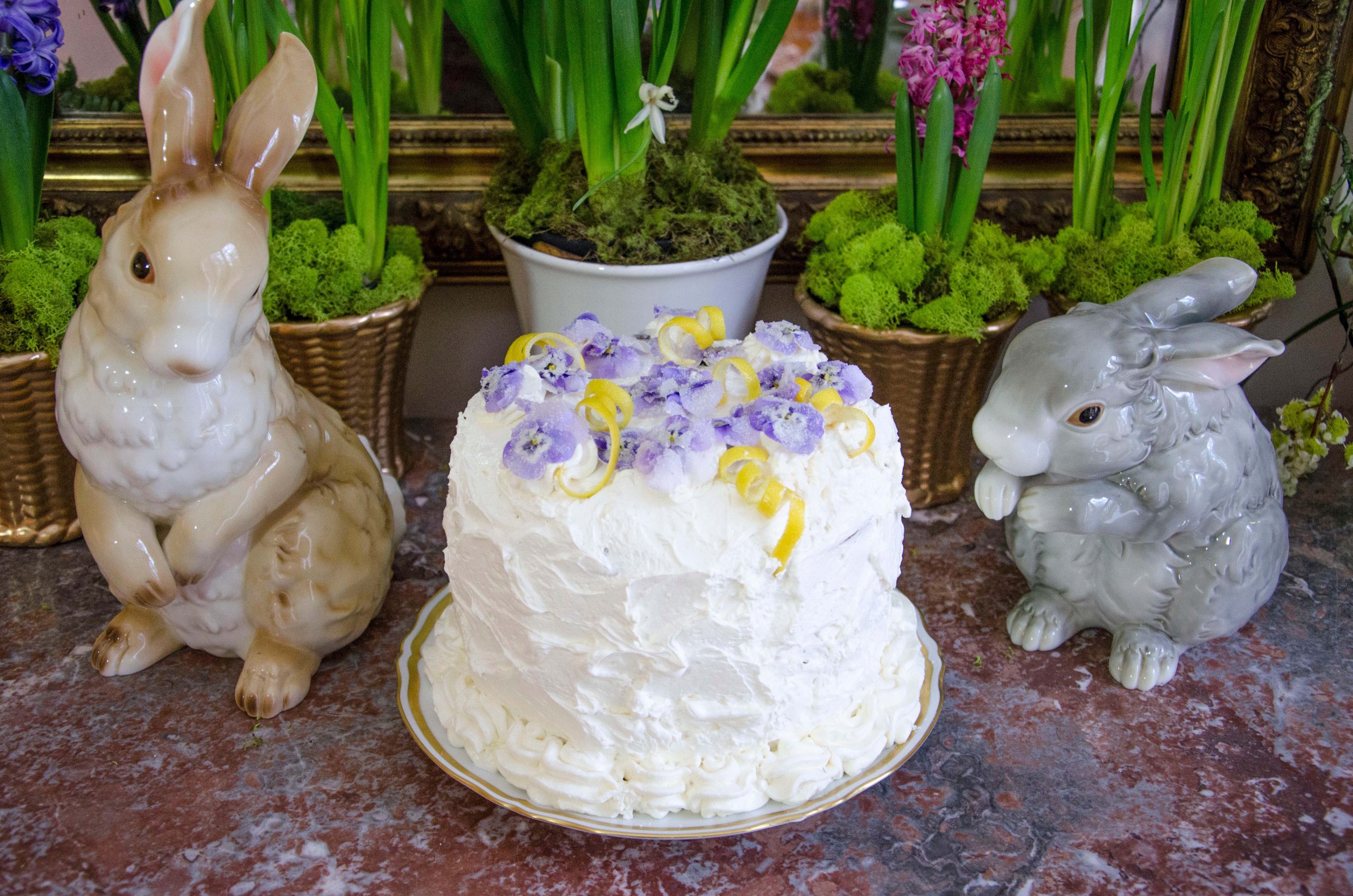 LEMON ICEBOX CAKE
1 (16.5-ounce) box lemon supreme cake mix
½ cup vegetable oil
1 water
3 eggs
Filling:
2 (14-ounce) cans sweetened condensed milk
¾  cup fresh lemon juice
ICING:
½ cup reserved filling
1 (8-ounce) container whipped topping
Preheat oven to 350 degrees. With mixer, combine cake mix, oil, water, and eggs, and beat for 2 minutes. Pour batter into three greased and floured 8-inch cake pans. Bake for 18 to 20 minutes. For filling, in a bowl, whisk together sweetened condensed milk and lemon juice. Reserve ½ cup for icing. Spread filling between layers. In a bowl, stir together reserved filling and whipped topping. Spread icing on sides and top of cake. Refrigerate. For a taller cake, bake two cake mixes.
Yield: 12 servings
Lena Causey, Madison