In the fall in Mississippi, the weather is cool and pleasant, and it is a wonderful time to enjoy an alfresco meal with girlfriends to visit and share stories, create memories, and craft some easy-to-make decoupage pumpkins! Line the table with silver dollar eucalyptus and holly and asparagus ferns, and a center arrangement of colorful terra cotta and peach roses and blue hydrangeas. Add some posh pumpkins that are decoupaged in pretty tissue paper or paper napkins to get everyone excited about the pumpkin project that will follow the meal. Girlfriends love pretty china, so set the table in your favorite china, crystal, and silver to coordinate with the posh pumpkins. Place cards are printed leaves tied to the tops of M small velvet pumpkins resting on gold leaf-shaped plates in the center of each dinner plate. Offer Artichoke Bites and Mini BLTs as guests arrive and then an Autumn Salad with Maple Vinaigrette as a starter. The main course is fresh Gulf Coast Crab Imperial served in antique sterling ramekins with Lemon-Parmesan Orzo and Asparagus with light-as-air Gruyere Popovers. After lunch, clear the table, and add supplies to create the posh pumpkins for everyone to take home. When the pumpkins are all dressed up, allow them to dry, and serve the dessert, a Sea Salt Caramel Pear Tart, and plan the next fun get-together for a meal and a craft! – Patty Roper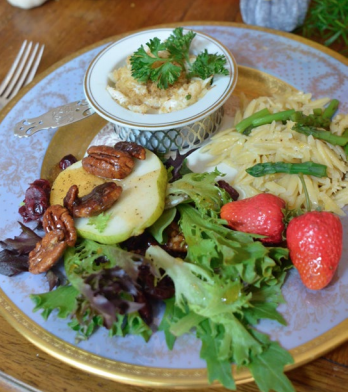 Menu
Artichoke Tartlets
Mini BLTs
Autumn Salad with Vinaigrette
Crab Imperial
Lemon-Parmesan Orzo with Asparagus
Gruyere Popovers
Sea Salt Caramel Pear Tart
ARTICHOKE TARTLETS
1 (14-ounce) can artichoke hearts, drained
1 (4-ounce) can chopped green chilies
1 cup grated Parmesan cheese
1 cup mayonnaise
3 (1.9-ounce) packages mini filo shells or 45 mini tartlet shells
Preheat oven to 350 degrees. With food processor, pulse artichoke hearts until finely chopped. In a bowl, stir together artichoke hearts, green chilies, cheese, and mayonnaise. Spoon into shells. Bake for 20 minutes. Serve warm or at room temperature. Yield: 45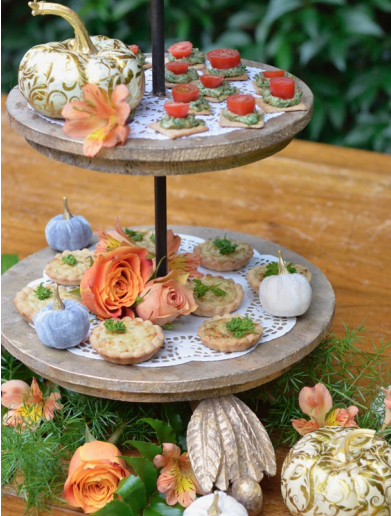 MINI BLTS
1 pint grape tomatoes, sliced
1 cup mayonnaise
½ cup fresh parsley, finely chopped
½ cup real bacon bits
1 (9.1-ounce) box regular Wheat Thins
With a sharp knife, slice tomatoes. Place on paper towels to drain. In a bowl, stir together mayonnaise, parsley, and bacon bits. Spoon a small amount on wheat thin, and top with a tomato slice. Yield: 60-70
AUTUMN SALAD WITH MAPLE VINAIGRETTE AND SPICY PECANS VINAIGRETTE:
2 tablespoons maple syrup
1 tablespoon Dijon mustard
2 tablespoons apple cider vinegar Salt and black pepper to taste
1 /3 cup olive oil
In a bowl, whisk together syrup, mustard, vinegar, salt, and pepper. While whisking, add oil in a steady stream. Yield: 1 cup
SPICY PECANS:
¼ cup maple syrup 2 tablespoons sugar
½ teaspoon salt
¼ teaspoon ground red pepper
2 cups pecan halves
Preheat oven to 350 degrees. In a bowl, stir together syrup, sugar, salt, and pepper. Add pecans, and stir until coated. Spread pecans in a single layer on a parchment-lined baking pan that has been lightly sprayed with non-stick cooking oil spray. Bake for 7 minutes, stir and bake for an additional 7 minutes. Remove to wire rack to cool. Break apart.
SALAD:
1 (16-ounce) package mixed salad greens
2 pears, cut into slices
4 ounces Gorgonzola cheese, crumbled
To plate, place greens on plate. Arrange 1 pear slice and a few cheese crumbles on greens. Sprinkle generously with pecans. Drizzle with vinaigrette. Yield: 8-10 servings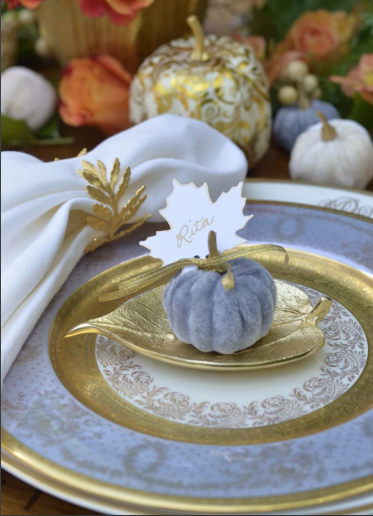 CRAB IMPERIAL
2 pounds fresh lump crabmeat
2 tablespoons lemon juice
¾ cup mayonnaise
1 tablespoon Dijon mustard
1 tablespoon minced fresh parsley
½ cup panko breadcrumbs
2 tablespoons butter, softened
¼ cup grated Parmesan cheese Paprika
Preheat oven to 350 degrees. In a bowl, place crabmeat, and drizzle with lemon juice. Stir in mayonnaise, mustard, and parsley. Divide equally among 8 to 10 greased ramekins or pour into a greased 2-quart baking dish; set aside. In a bowl, stir together butter, breadcrumbs, and cheese. Sprinkle over crabmeat. Sprinkle with paprika. Bake for 12 to 15 minutes for ramekins and 20 to 25 minutes for baking dish. Yield: 8-10 servings
LEMON-PARMESAN ORZO WITH ASPARAGUS
6 cups water, divided
1½ cups orzo pasta
½ stick salted butter Zest and juice of 1 lemon
½ pound asparagus spears, cut into bite-size pieces
1 /3 cup grated Parmesan cheese
Salt and black pepper to taste
In a saucepan over medium heat, bring 4 cups water to a boil. Add orzo, and cook for 10 minutes until slightly tender. Drain, and stir in butter, lemon zest and juice; set aside. In a saucepan over medium heat, bring 2 cups water to a boil, and add asparagus pieces. Cook for 2 minutes until asparagus is fork-tender. Drain, and stir into pasta. Stir in Parmesan cheese and salt and pepper to taste. Yield: 6-8 servings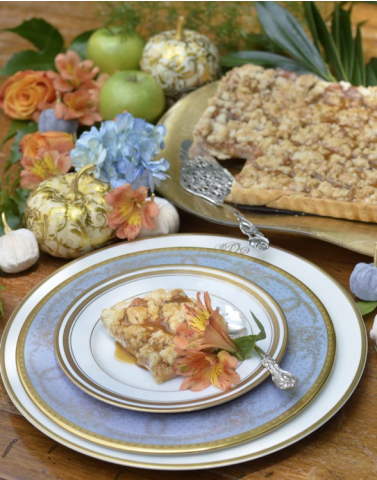 GRUYERE POPOVERS
1 cup all-purpose flour
½ teaspoon salt
1 cup milk
2 eggs
1 cup grated Gruyere cheese
Preheat oven to 425 degrees. With mixer or blender, combine ingredients, and beat until smooth. Pour into greased popover pan cups about ¾ full. Bake for 35 minutes. Yield: 12 popovers
SEA SALT CARAMEL PEAR TART CRUST:
½ (15-ounce) package pie crusts
Confectioners' sugar
PEAR FILLING:
8 medium ripe pears, peeled, cored, and diced
2 tablespoons lemon juice
3 tablespoons all-purpose flour
½ teaspoon cinnamon
½ cup caramel topping
TOPPING:
1 stick butter, melted
1 cup all-purpose flour
1 cup sugar
½ cup chopped walnuts
¼ cup caramel topping
Sea salt
Preheat oven to 450 degrees. For crust, press pie crust into bottom and up sides of 9-inch tart pan. With a fork, prick bottom. Line with parchment paper and pie weights. Bake for 10 minutes. Remove to wire rack. Remove pie weights and paper, and sprinkle with confectioners' sugar. Cool. For pear filling, in a bowl, stir together pears, lemon juice, flour, cinnamon, and caramel topping. Pour into crust. For topping, in a bowl, stir together butter, flour, sugar, and walnuts. Crumble over pear filling. Bake for 30 minutes or until lightly brown. Remove to wire rack to cool. Serve warm or at room temperature. To serve, drizzle with caramel topping and sprinkle with sea salt. Yield: 8 servings