This butterfly project was inspired by my friend, Linda Kay Barbour, from Winona. She used paper butterflies on branches for a garden club luncheon, and they were such a pretty presentation fluttering above the tables. Butterflies are some of God's most amazing creatures. According to EcoWatch, there are more than 17,500 recorded butterfly species around the world, with about 750 found in the United States. Butterflies are found on every continent except Antarctica because they need warm climates. Therefore, they love Mississippi in the spring and summer, and most people love the beautiful, colorful, fluttering insects.
This fun butterfly project is perfect for those who loved cutting out paper dolls as children. You will need two 36 x 24-inch Butterflies of the World beautiful laminated posters from Amazon, white glue, scissors, and an oil-base gold Sharpie marker. With small scissors, cut out the butterflies and glue like ones from each sheet together, lining up the edges of the wings and body. Cut any overlapping edges away if necessary, and trace around the butterflies with the gold marker. Shape the wings by bending butterflies slightly in the middle to achieve dimension. Then they are ready to perform! Glue them to napkin rings and menu cards. Use straight pins and thin floral wire to attach them to small preserved boxwood topiaries or a preserved boxwood wreath for the front door.
To continue the theme, place colorful, edible butterflies on your desserts, available from Amazon.
So, set your spring table all aflutter with a host of beautiful, colorful butterflies!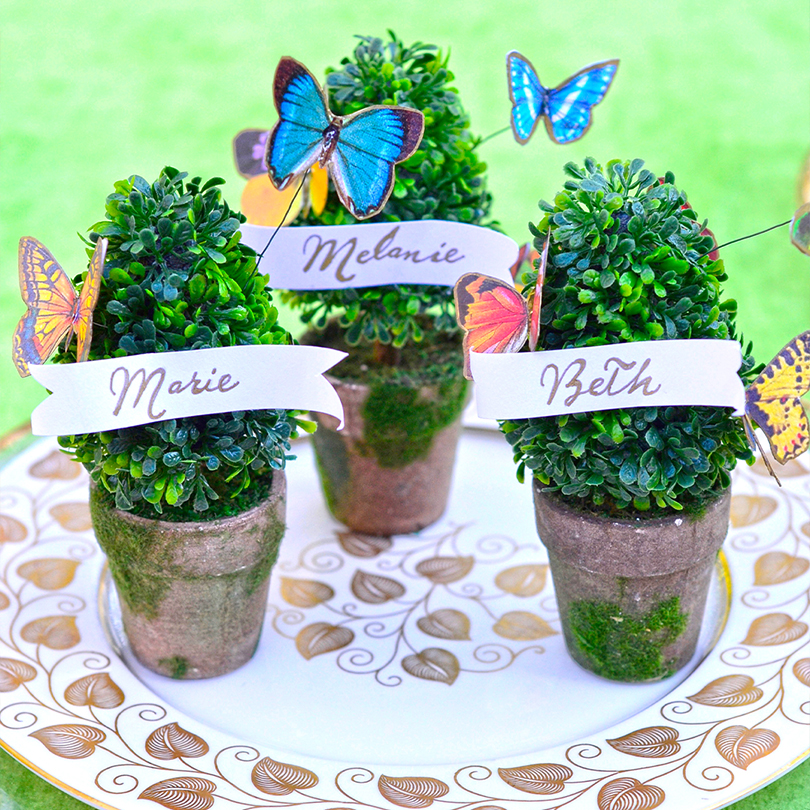 For a special centerpiece, pin or wire fluttering butterflies to preserved boxwood topiaries of various shapes and sizes. For place cards, pin printed nametag banners to small boxwood topiaries. Attach several butterflies with pins and wire.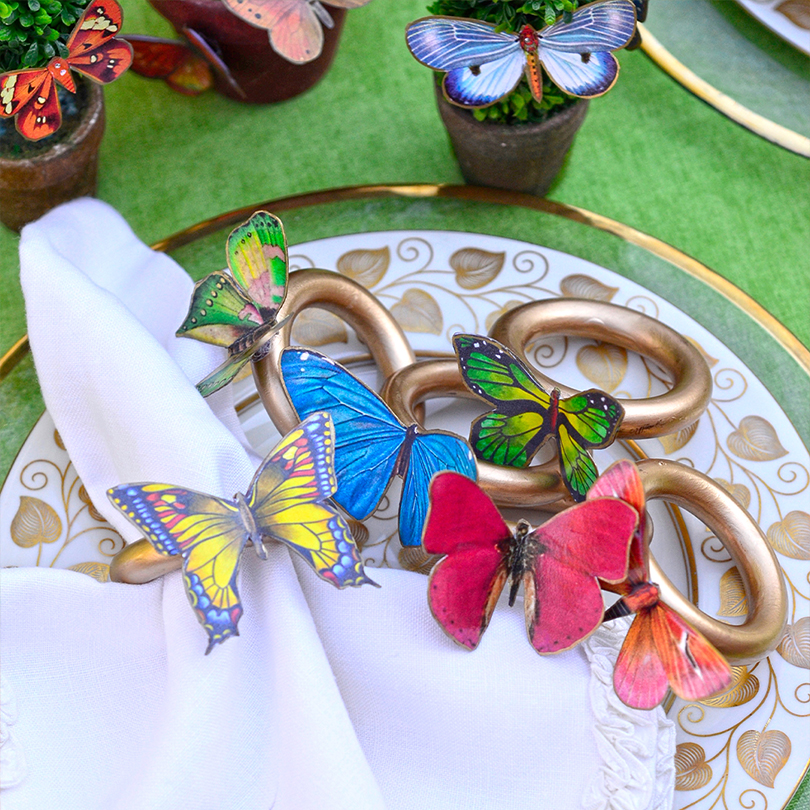 For napkin rings, paint curtain rings gold with gold-leaf paint. Allow drying, and attach a different large, colorful butterfly to each ring.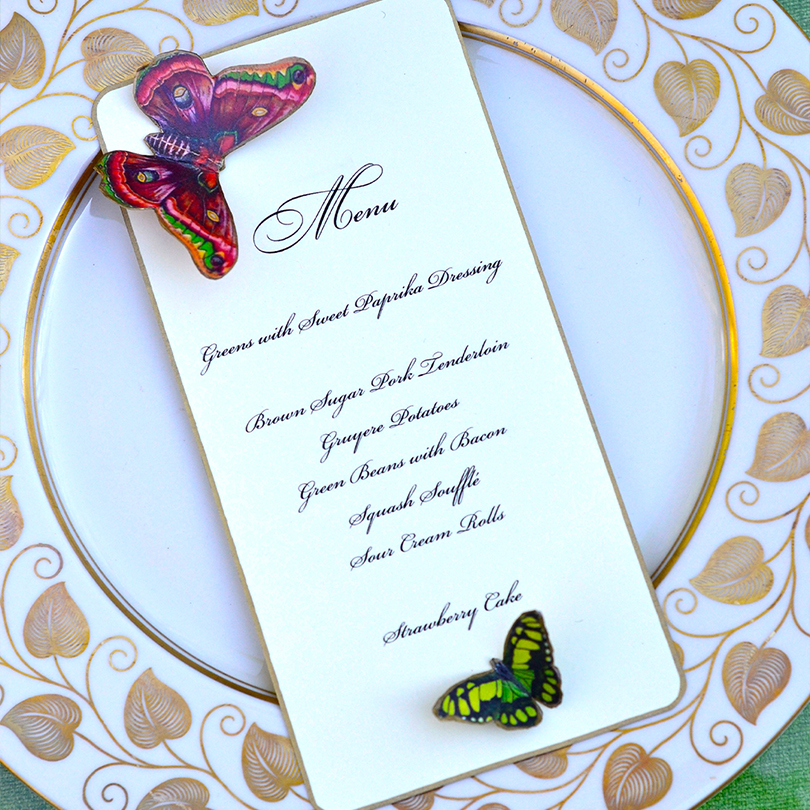 For menu cards, glue the bodies of two different butterflies to computer printed menu cards that have been edged with a gold Sharpie marking pen. Bend wings to create dimension.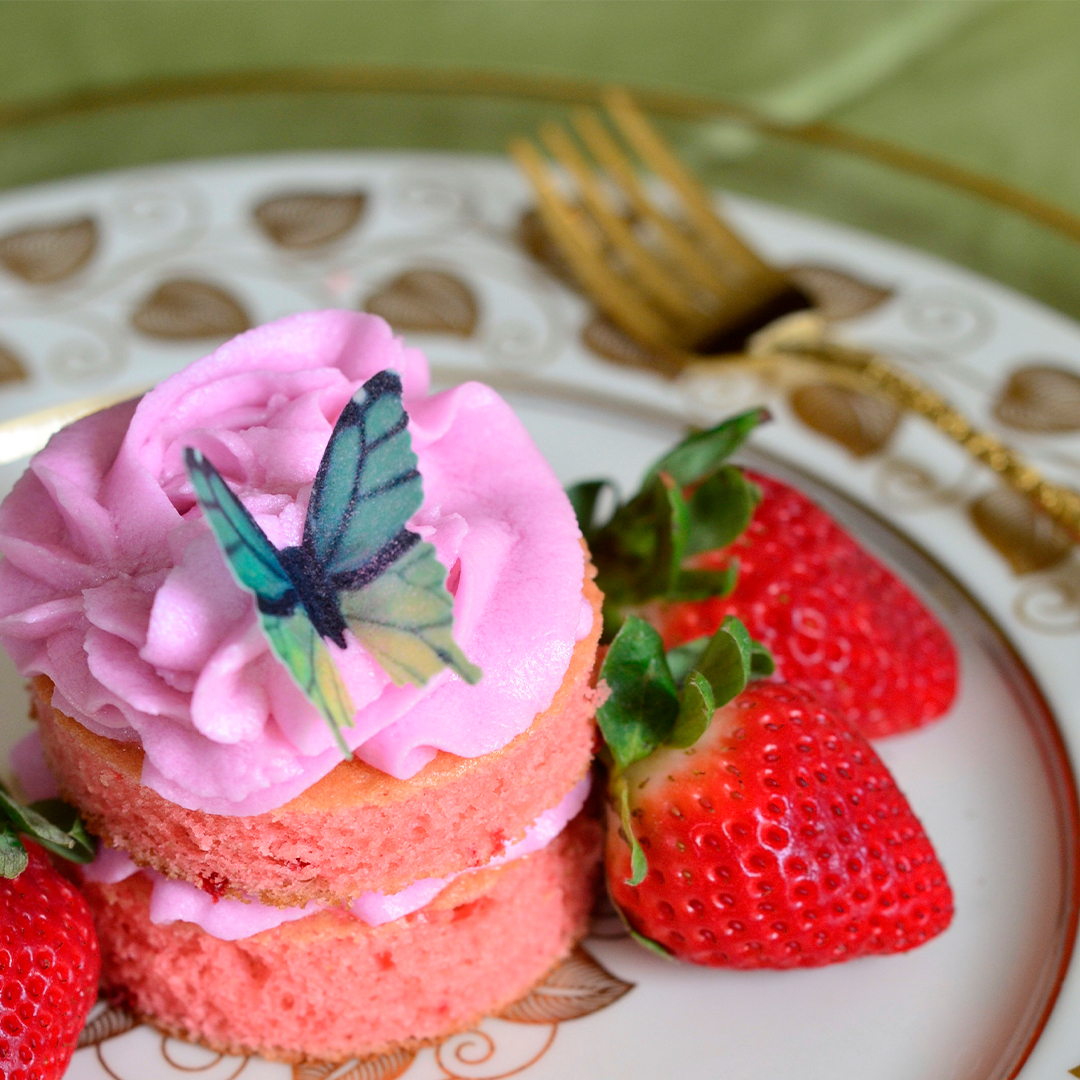 STRAWBERRY CAKE
1 (16.5-ounce) white cake mix
1 (3-ounce) strawberry Jell-O
1 cup vegetable oil
½ cup milk
4 eggs
1 cup frozen strawberries, slightly thawed
1 cup coconut
1 cup chopped pecans
For garnish: edible butterflies and fresh strawberries
Preheat oven to 350 degrees. In bowl of mixer, combine dry cake mix and Jell-O. Add oil and milk and beat until combined. Beat in eggs 1 at a time. Stir in strawberries, coconut, and pecans. Pour into a greased and floured 10½ x 15½-inch jellyroll pan. Bake for 20 minutes or until a toothpick placed in center comes out clean. Cool in pan on wire rack. Using a 2-inch round cutter, cut rounds from cake. Place one round on plate. Using a piping bag with a large star tip, pipe on icing to cover top of cake. Place a second round on top. Pipe on another layer of icing. Garnish with edible butterfly and fresh strawberries.
Yield: 12
ICING:
1 stick margarine, softened
1 (8-ounce) package cream cheese, softened
1 (16-ounce) box confectioners' sugar
½ cup frozen strawberries, thawed and drained
½ cup coconut
½ cup chopped pecans
With mixer, cream margarine and cream cheese with confectioners' sugar. Add remaining ingredients. Beat until well mixed.
Gale Hammond
Pearl