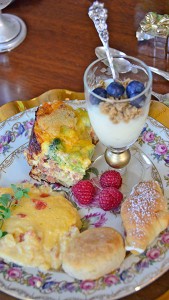 When I discovered these beautifully handpainted china gift boxes with rose-colored bows and gold edges at a flea market, I knew they would be the perfect accessory to set the theme for an elegant Christmas table. I love combining old and new, heirloom and modern, and pulling a fun theme together. I placed the china boxes on vintage china dinner plates with flower garlands and lacy golden edges by Rosenthal on top of gold ruffle chargers by Annieglass. Sterling flatware and goblets and monogrammed linen napkins with different vintage silver napkin rings and printed menu cards completed each place setting.
The center of the table was lined with stacked glitter-gold boxes (from craft stores) accented with golden ribbons and vintage bow brooches filled with lime hydrangeas, pink peonies, lambs' ears, and pink and rose ranunculus.
Good friends shared a special time together during the busy holidays over a leisurely brunch, beginning with Creamy Tomato Basil Soup served in china gift boxes and ending with Tiramisu boxes with fondant bows. Before leaving, everyone opened gift boxes containing special ornaments to remind them of the special gifts of their shared friendship and their time together.
Creamy Tomato Basil Soup
2 (10-ounce) cans diced tomatoes
4 cups tomato juice
1 (10-ounce) can chicken broth
1 teaspoon basil
1 cup heavy whipping cream
1 stick butter
Salt and black and white pepper to taste
Place tomatoes, juice, chicken broth, and basil in a stock pot over medium heat. Simmer for 30 minutes. Stir in heavy cream and butter. Season with salt and peppers. Heat, stirring until butter is melted. Do not boil. Yield: 8 servings
Fire Crackers
½ cup canola oil
3 tablespoons red pepper flakes
1 (1-ounce) package dry ranch dressing mix
1 (11-ounce) box mini saltine crackers
Combine oil, red pepper, and ranch dressing mix. Pour oil mixture over crackers. Place crackers in a container with a lid. Turn container every 15 minutes for 1 hour. Store in an airtight container. Yield: 24 servings
Ham and Broccoli Strata
1 (24-ounce) Hormel Black Label canned ham
1 tablespoon Grey Poupon mustard
2 tablespoons light brown sugar
12 slices white bread
1 (10-ounce) package frozen chopped broccoli
2 cups shredded cheddar cheese
6 eggs, beaten
3 cups half-and-half
Salt and black and white pepper to taste
2 tablespoons melted butter
Preheat oven to 275 degrees. Spread mustard on canned ham, and sprinkle with brown sugar. Bake in foil for 1 hour. Cool, and cut into bite-size pieces; set aside. Preheat oven to 325 degrees. Spray a 9×13-inch baking dish with nonstick cooking spray. Cut two small stars or shapes from each slice of bread with a cookie cutter; set aside. Break remaining bread into small pieces for a thin first layer. Next, place layers of ham, broccoli, and cheese. With mixer, combine eggs, half-and-half, salt, and peppers. Pour over casserole. Dip shaped pieces of bread into melted butter, and place on top of casserole. Bake for 45 minutes. Allow to cool for 30 minutes, and cut into squares. Yield: 10-12 servings
Spicy Cheese Grits
2½ cups water
1¼ cups milk
1½ teaspoon salt
1 cup quick-cooking grits
1 stick plus 1 tablespoon butter
1 (8-ounce) Velveeta cheese, divided
2½ cups shredded Cheddar cheese, divided
1 (10-ounce) can Rotel diced tomatoes and green chilies
2 eggs, lightly beaten
Preheat oven to 350 degrees. In a saucepan, bring water, milk, and salt to a boil. Slowly add grits and return to a boil; stir for 1 full minute. (The secret to preparing good grits is the initial stirring of the pot.) Reduce heat, cover, and cook for 3 minutes. Stir grits and add 1 stick butter, stirring until melted. Cover and cook for 3 to 5 minutes, or until grits are thick and creamy. Remove from heat and set aside. Add Velveeta and 1½ cups Cheddar cheese, and stir until cheese is melted. Add tomatoes and mix well; stir in beaten eggs. Pour grits into a greased 9×13-inch casserole dish. Bake for 40 minutes. Remove from oven and sprinkle remaining cheese over casserole and bake for 5 minutes. Yield: 8-10 servings
Lemon Yogurt with Blueberries and Granola
In individual parfaits, top lemon yogurt with fresh blueberries and granola.
Brie and Raspberry Croissants
Preheat oven to 300 degrees. Split each croissant. Place a few slices of Brie cheese on each croissant bottom. Replace top. Heat in oven covered with foil for 10 to 15 minutes. Remove from oven and add 1 tablespoon raspberry jam to each sandwich. Sprinkle with confectioners' sugar.
Tiramisu
2 (3-ounce) packages ladyfingers, split
¼ cup brewed espresso or strong coffee
1 (8-ounce) carton mascarpone cheese
1 cup whipping cream
¼ cup confectioners' sugar
1 teaspoon vanilla
1/3 cup chocolate liqueur
1 ounce white baking chocolate, grated
1 ounce bittersweet chocolate, grated
Unsweetened cocoa powder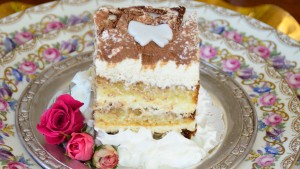 Line the bottom of a greased 8×8-inch baking pan with ladyfinger halves to cover, cutting to fit. Brush with half the espresso; set aside. With mixer on medium speed, beat mascarpone cheese, whipping cream, sugar, and vanilla until stiff peaks form. Beat in liqueur. Spread half the mascarpone mixture over ladyfingers in pan. Sprinkle with white chocolate and bittersweet chocolate. Top with another layer of ladyfingers, cutting to fit. Brush with remaining espresso. Spread remaining mascarpone mixture over ladyfingers in pan. Cover and chill for 6 to 24 hours. Before serving, sprinkle lightly with cocoa powder and garnish with fondant bows and fresh flowers, chocolate curls, or chocolate-covered coffee beans. Yield: 9 servings