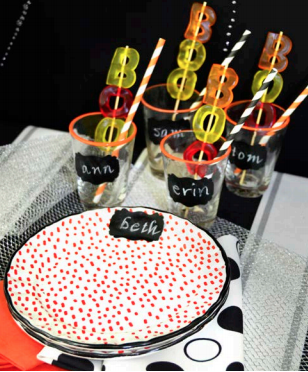 Label plates and glasses with stick-on chalkboard name tags. Send a scary message with gummy letters threaded on skewers.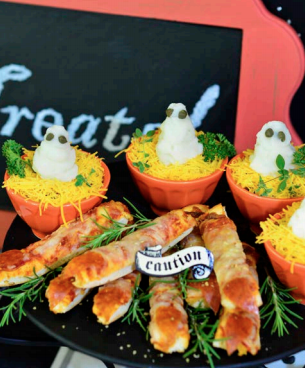 Cut cheese pizza into fingers, and add pointy pepperoni fingernails. Serve chili in small bowls with shredded cheese and top with piped mashed-potato ghosts with caper eyes.
Caramel apple cookies are made by coloring sugar cookie dough red and green. Then shape each cookie into a ball, add a green leaf, and bake. When done, add a pretzel stem and dip bottoms in melted caramels and chopped pecans.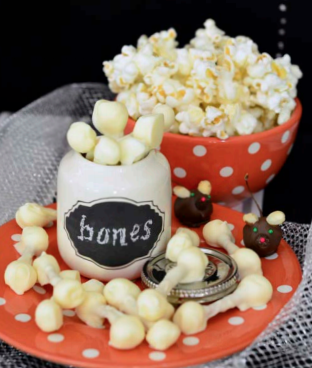 Bones are made from dipping pretzels with a marshmallow on each end into white chocolate almond bark. Mice are cherries with stems dipped in chocolate with sliced almond ears, chocolate chip noses, and piping gel eyes and noses.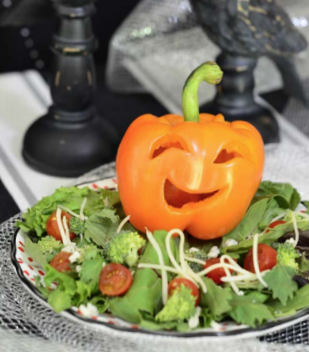 Accent salads with a smiling bell-pepper pumpkin.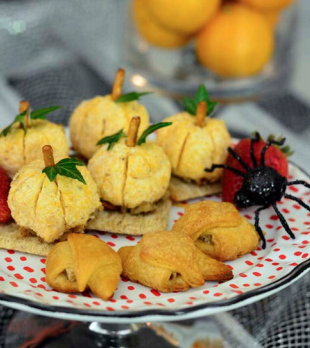 Shape cheese balls into individual pumpkins with pretzel stems, or create Brie bats by cutting a bat shape with a cookie cutter from pie-crust dough. Then tuck a tiny cube of Brie cheese on the center body, close the wings over the cheese, and bake.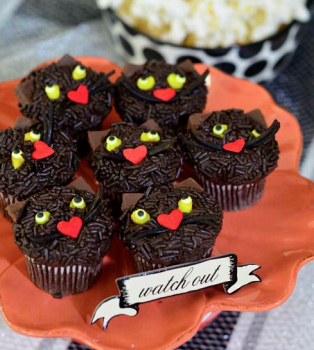 For kitty cupcakes, sprinkle iced cupcakes with chocolate sprinkles. Add sliced yellow gumdrop circles with google eyes and red heart noses with string liquorice whiskers.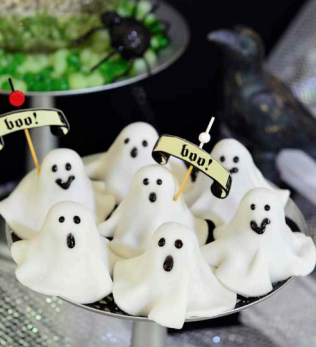 The happy ghosts are created with rolled fondant circles shaped over brownie pops. Faces are made with black piping gel.