Everyone loves the 4th of July and what it means to be an American! Everyone loves a picnic! And everyone loves be-ing with family and friends for an easy day at the lake! We enjoy having a pic-nic every year at our lakehouse on the 4th. Everyone has special things they always bring for the meal, and everyone looks forward to these special things. Our friends from Meadville bring a watermelon and boiled peanuts, one cousin brings cedar-plank salmon, a friend from Brandon brings her famous chocolate squares and the best chocolate chip cookies, a friend from Winona brings fried chicken, I have Mimi's Potato Salad, Iced Sugar Cookies, and Easy Homemade Ice Cream, and the list goes on. And sometimes someone even brings a new offering for everyone to try! We hang stars and flags, and we pull out the small fleet of slow boats, and everyone visits and plays games in the yard all day, and a few people even stay for a supper of leftovers. We catch up on what friends and family members are doing and on new babies and other additions to the group. Just a fun time outside together. We are so thankful for our country and our freedom and for our family and friends. Happy 4th of July!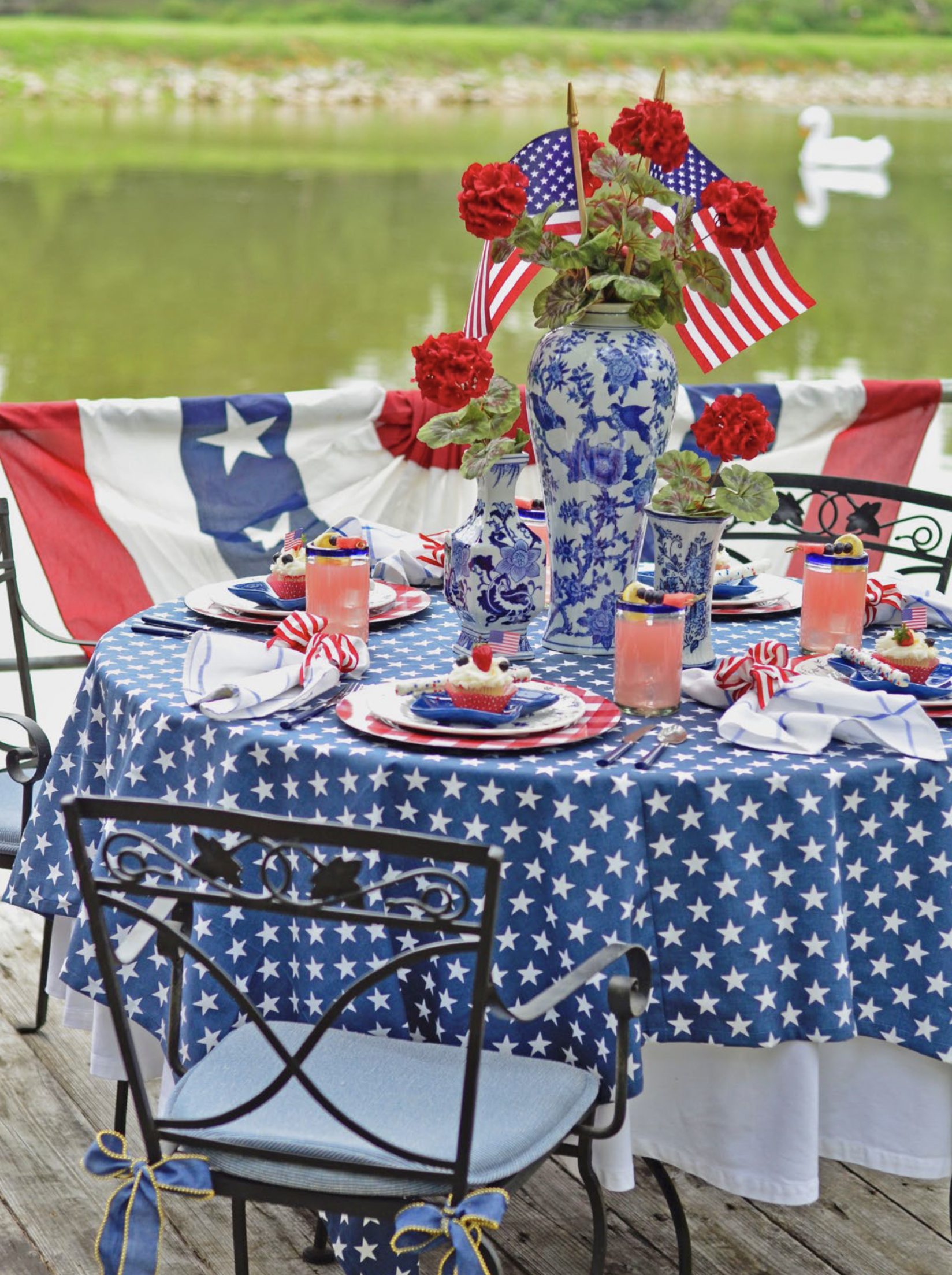 Menu:
Pulled Pork on Buns with Coleslaw and Sweet Pickles
Sausage Balls
Baked Beans and Beef
Mimi's Potato Salad
Veggies and Creamy Dill Dip
Fruit and Dip
Lemon Cupcakes
Blueberry Crumb Pies
Chocolate Stars
Easy Homemade Vanilla Ice Cream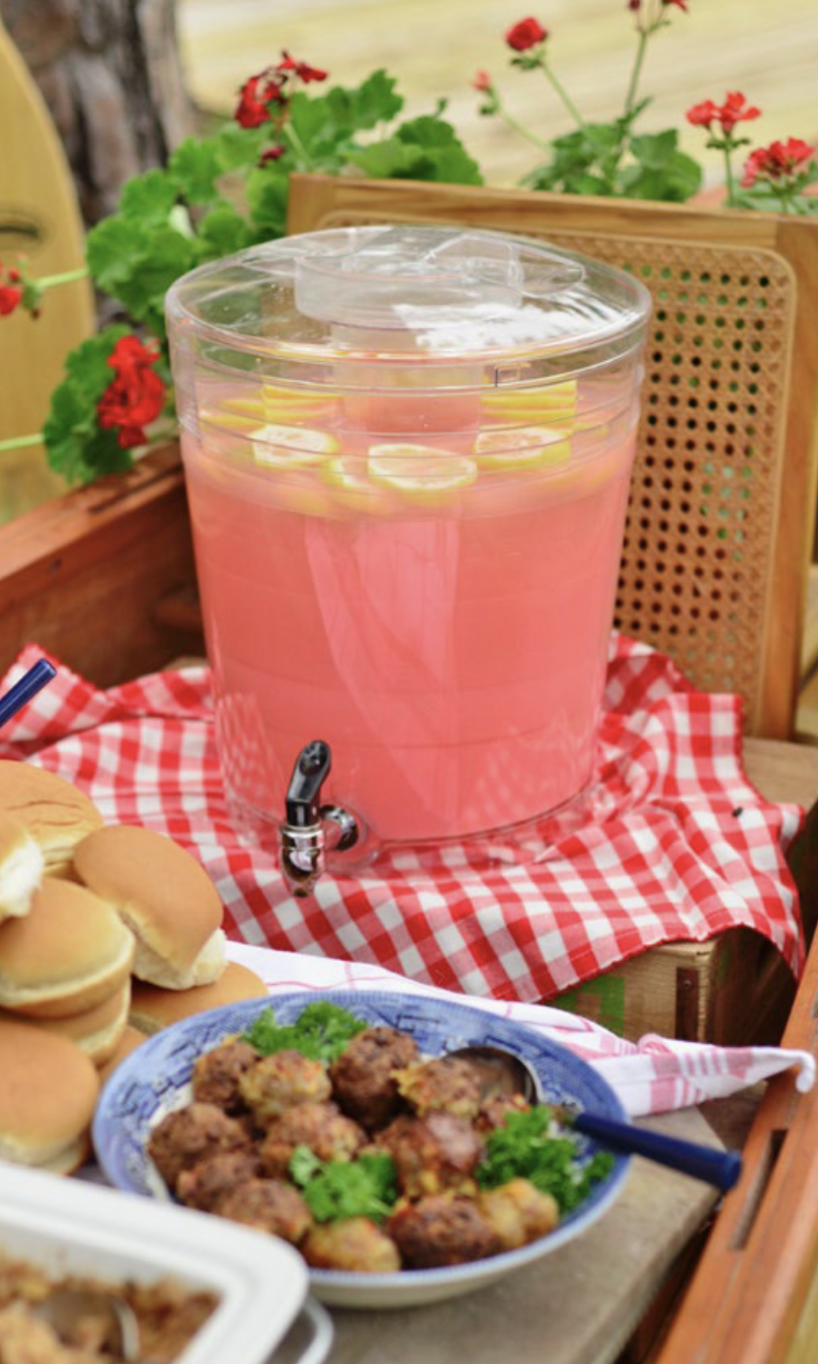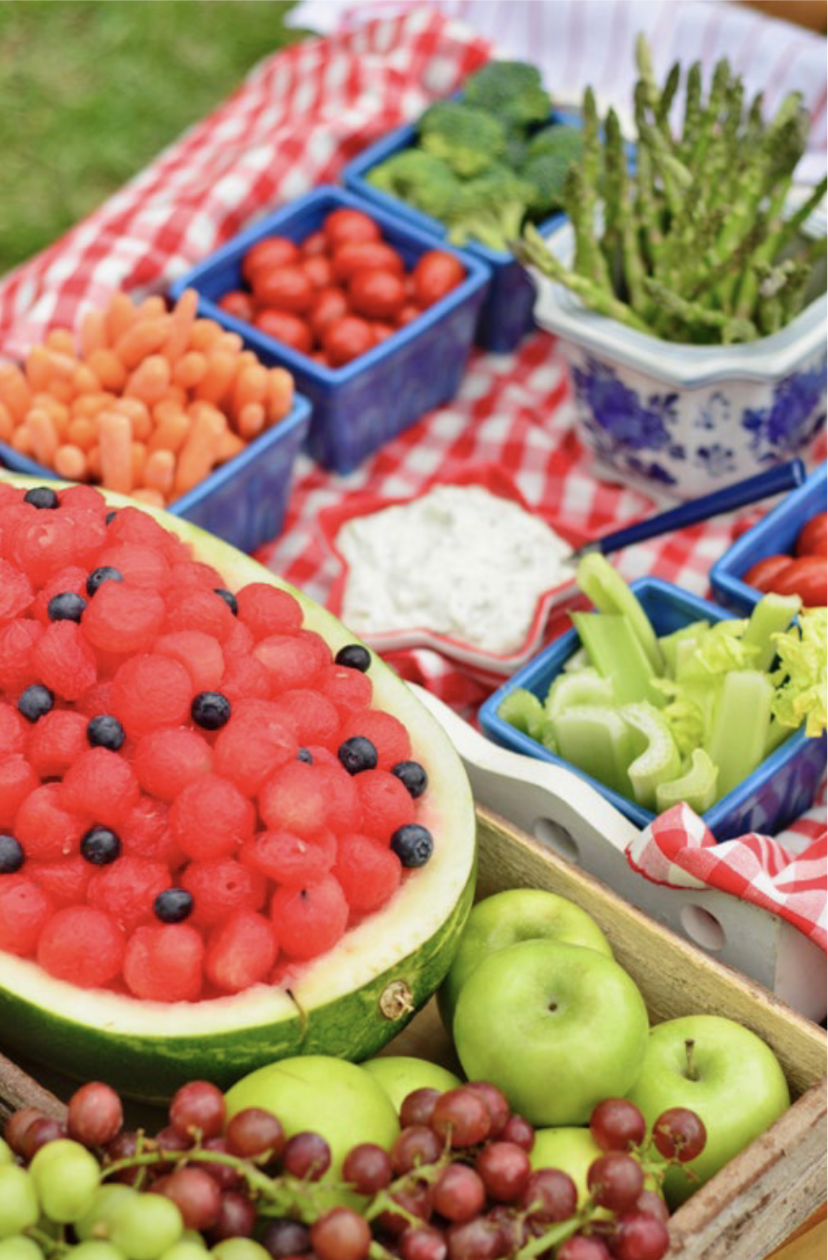 PULLED PORK ON BUNS
1 (3- to 4-pound) boneless pork loin roast
1 (24-ounce) bottle Wicker's Original Marinade and Baste
½ cup barbecue sauce
2 packages slider buns (12 buns per package)
For garnish: 24 small sweet pickles, mayonnaise
In Crockpot, place pork roast and marinade. Cook on high for 6 hours. Turn roast during cooking; add water if needed. When done, remove fat, and with a fork, pull pork into bite-size pieces. Stir in barbecue sauce. Serve on buns moistened with mayonnaise and coleslaw with sweet pickles.
Yield: 24 sliders
COLESLAW
2 cups angel shredded coleslaw
¼ cup ranch salad dressing
In a bowl, stir together coleslaw and salad dressing.
Yield: 2 cups
SAUSAGE BALLS
1 pound ground sausage
2 cups biscuit baking mix
12 ounces shredded cheddar cheese
Preheat oven to 425 degrees. In a bowl, stir all ingredients together. Shape into 1-inch balls, arrange on ungreased baking sheet, and bake for 12 to 15 minutes.
Yield: 5 dozen
BAKED BEANS AND BEEF
½ cup ketchup1 cup barbecue sauce
½ cup packed light brown sugar
½ teaspoon dry mustard
1 (28-ounce) can pork and beans, not drained
1 pound ground beef, browned and drained
4 slices bacon, cooked, drained, and crumbled
Preheat oven to 350 degrees. In a bowl, combine ketchup, barbecue sauce, sugar, and mustard; set aside. In a large bowl, stir together beans and ground beef. Stir in sauce mixture. Pour into a greased 9×13-inch casserole dish. Bake uncovered, for 30 minutes. Remove, and top with crumbled bacon.Yield: 16 servings
MIMI'S POTATO SALAD
5 pounds red potatoes
1 tablespoon lemon juice
2 tablespoons margarine
¼ cup dill pickle cubes
1 tablespoon celery seeds
Salt, black pepper, and white pepper to taste
1 cup mayonnaise
5 hard-boiled eggs, chopped
For garnish: paprika
Peel and cube potatoes. Boil in water to cover and cook until just tender; drain. Place in a large bowl, and drizzle with lemon juice. Stir in margarine; cool. Stir in pickles, celery seeds, salt, peppers, and mayonnaise. Carefully fold in eggs. Garnish with paprika. Yield: 12 servings
VEGGIES AND CREAMY DILL DIP
1 cup mayonnaise
1 cup sour cream
2 tablespoons dill weed
2 tablespoons seasoned salt
In a bowl, stir together mayonnaise, sour cream, dill, and seasoned salt. Refriger-ate, and serve with vegetables and pita chips. Yield: 2 cups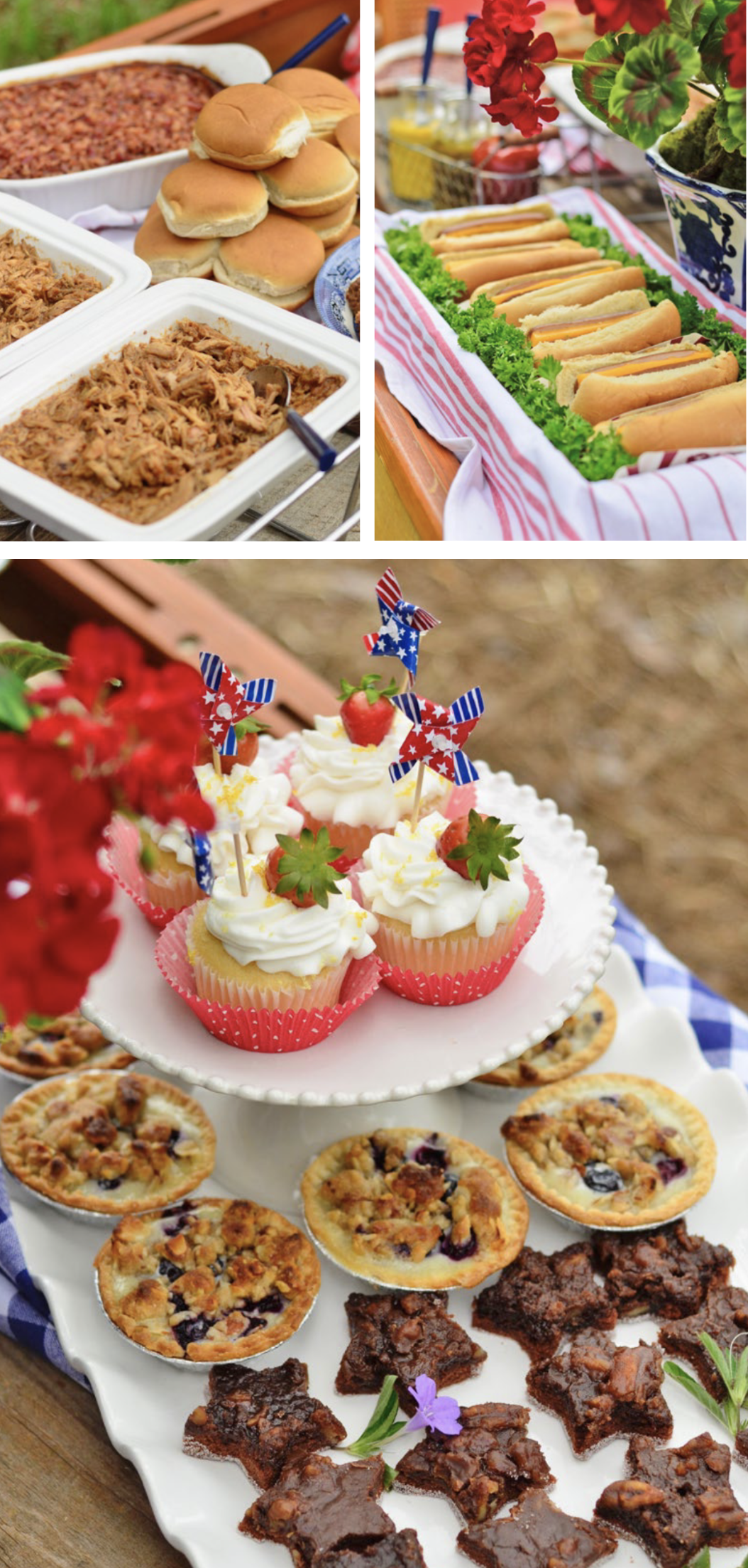 FRUIT DIP
1 (8-ounce) package cream cheese, softened
1 (7- ounce) container marshmallow cream
1 teaspoon vanilla
With mixer, beat cream cheese until creamy. Beat in marshmallow cream and vanilla. May add a drop of food coloring if desired. Serve with fresh fruit.
Yield: 2 cups
EASY HOMEMADE VANILLAICE CREAM
2 (14-ounce) cans sweetened condensed milk
1 (12-ounce) can evaporated milk
¾ cup sugar
2 teaspoons vanilla
Milk
In a bowl, stir together condensed milk, evaporated milk, sugar, and vanilla. Add milk to make 1 gallon. Freeze in ice cream freezer according to directions. Yield: 1 gallon
BLUEBERRY CRUMB PIES
FILLING:
1 cup sour cream
2 tablespoons all-purpose flour
¾ cup sugar
1 teaspoon vanilla
¼ teaspoon salt
1 egg, beaten
2½ cup fresh blueberries, washed and drained
1 (10-ounce) package frozen tart shells (8 shells)
TOPPING:
3 tablespoons unsalted butter, softened
3 tablespoons all-purpose flour
3 tablespoons chopped pecans
Preheat oven to 400 degrees. For filling, in a bowl, blend sour cream, flour, sugar, vanilla, salt, and egg until smooth. Fold in blueber-ries. Pour filling into crusts and bake for 20 minutes. For topping, in a bowl, stir together butter, flour, and pecans. Sprinkle over pies; bake for an additional 7 minutes.
Yield: 8 servings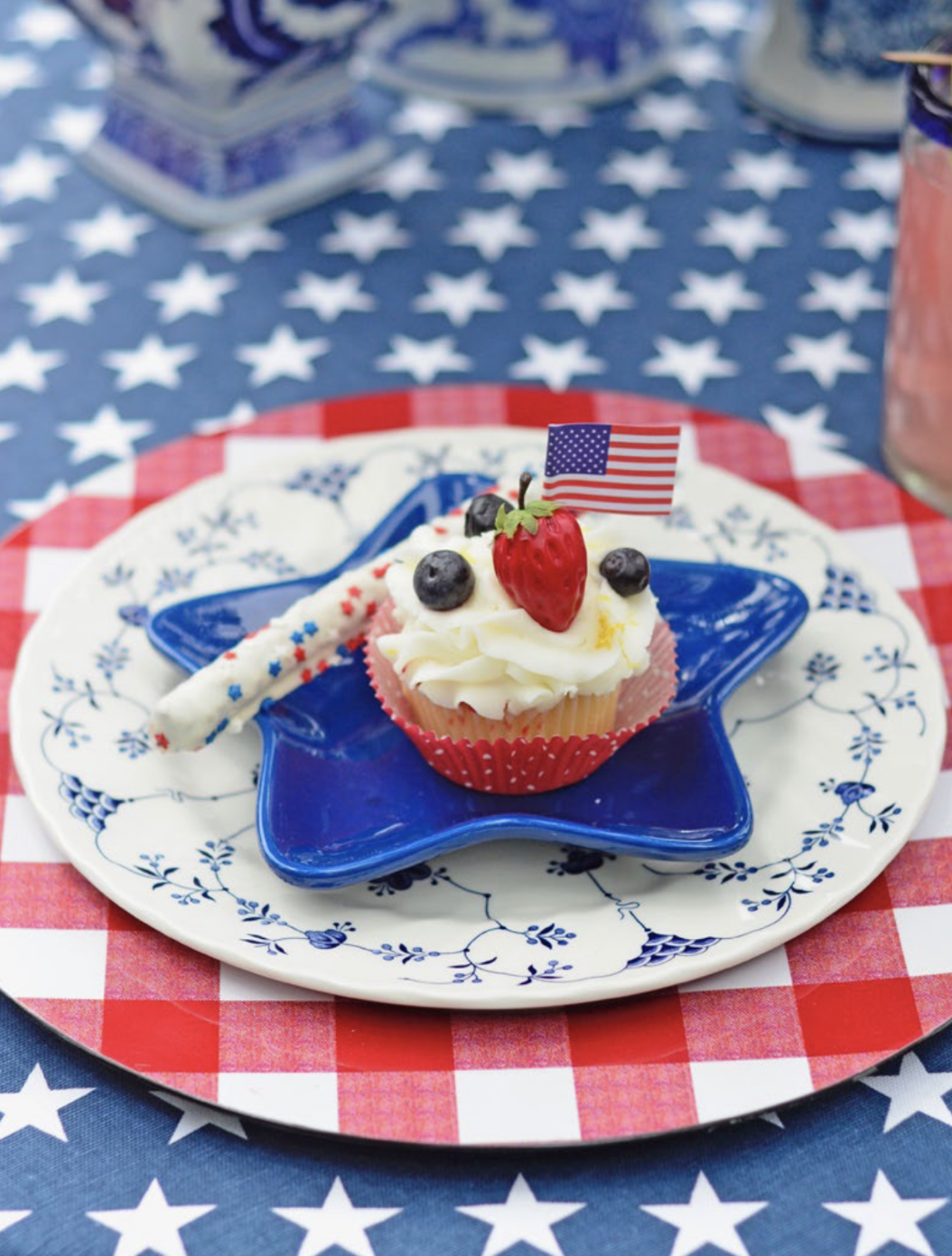 LEMON CUPCAKESCUPCAKES:
1 (16.5-ounce) box Lemon Supreme cake mix
1 (3.4-ounce) box lemon instant pudding mix
1 cup sour cream
¾ cup water
¾ cup vegetable oil
4 eggs
Preheat oven to 350 degrees. With mixer, combine cake mix, pudding mix, sour cream, water, oil, and eggs. Pour into greased or cupcake liner cupcake pans. Bake for 15 min-utes or until a toothpick inserted into center of one cupcake comes out clean. Frost with Lemon Buttercream Frosting
Yield: 2 dozen cupcakes
LEMON BUTTERCREAM FROSTING
2 sticks unsalted butter, softened
5 cups confectioners' sugar
1 tablespoon lemon zest
¼ cup lemon juice
For garnish: lemon zest and fresh berries With mixer, beat butter until creamy.
Gradually beat in confectioners' sugar. Beat in zest and juice. Place in piping bag with a large star tip and pipe onto cupcakes. Sprinkle with ad-ditional lemon zest, and garnish with fresh strawberries and blueberries.
Yield: 5 cups
CHOCOLATE STARS
2 cups all-purpose flour
2 cups sugar
½ teaspoon salt
1 cup water
1 stick margarine
½ cup solid shortening
2 tablespoons powdered cocoa
2 eggs, beaten
1 teaspoon baking soda dissolved in ½ cup buttermilk
1 teaspoon vanilla ¼ teaspoon cinnamon
Preheat oven to 350 degrees. In a bowl, sift flour, sugar, and salt together; set aside. In a saucepan, bring water, margarine, shortening, and cocoa to a boil. Pour over dry ingredients; cream. Mix in eggs, baking soda dissolved in buttermilk, vanilla, and cinnamon. Pour into a greased 11x15x2-inch sheet-cake pan. Bake for 20 minutes. Pour warm icing over cake. When cool, cut cake into star shapes with a star cookie cutter.
Yield: 24 servings
ICING:
1 stick unsalted butter, softened
1 (16-ounce) box confectioners' sugar
3 tablespoons powdered cocoa
1/3 cup milk
1 teaspoon vanilla
1 cup chopped pecans
In a saucepan over medium heat, cream butter, sugar, cocoa, milk, vanilla, and pecans. Pour over warm cake.